How to Buy NFTs – A Quick Overview 2022 (Updated)

If you haven't seen it already, we announced a new NFT project that puts a twist on crowdfunding to help support the opening of our first café in NYC
Our project, Crypto Barista's will launch with 60 caffeine-loving characters on the Blockchain whose ownership helps open the World's First NFT funded café while giving caffeinated perks, roadmap, and project fund governance back to the NFT owners. You can find the live auction and more by visiting our profile on Rarible.
Buy Cryptocurrency: Join a cryptocurrency marketplace like Coinbase and fund your account with Ethereum.
Get a Cryptocurrency Wallet: Signup for a "Non-custodial" wallet like

Metamask

, which is where you can store and control your cryptocurrency and digital assets.
Transfer Your Cryptocurrency: Transfer your ETH coins from Coinbase to your wallet (Metamask or other), which gives you the control to purchase NFTs across the various marketplaces.
Join the NFT Marketplace, Rarible: Join

Rarible

, which is a marketplace for NFT artwork. You will be asked to sync your digital wallet (Metamask or other) to the site, which will allow you to purchase and then store your digital assets.
Follow Crypto Baristas on Rarible: Follow our profile on Rarible to stay up to date on all our digital asset auctions.
Purchase your first NFT: when purchasing your first NFT, either through auction or straight sale, be concious of current "gas fees" as they can add significant fees on top of your purchase.
Step 1: Acquiring Cryptocurrency to Purchase an NFT

Overview of Step 1:
Join a Cryptocurrency Marketplace: Join a cryptocurrency marketplace like

Coinbase

to purchase, store, and transfer your cryptocurrency. Coinbase recommends a minimum of $50 to get started. They are also currently running a promotion, "Get $5 in Bitcoin for signing up."
Send In the Required Documents: Just like any standard trading platform (think stocks), you will need to be approved to begin buying and selling cryptocurrency. Send in your required documents and sync a payment source.
Buy ETH coin: ETH coin is a cryptocurrency that is part of the Ethereum blockchain, which is the system and currency used to purchase and store NFTs.
Your first step on this NFT journey is purchasing cryptocurrency in the form of ETH. ETH or Ether is part of the Ethereum open-source computing platform and operating system. ETH is the cryptocurrency that coincides with the Ethereum network and is what is used when purchasing NFTs.
NFTs are minted on ERC-721 compliant contracts deployed to the Ethereum blockchain. This is the "gold standard" and the most widely supported format for digital collectibles.
The purchase of ETH will allow you to make bids on and even purchase NFTs through various marketplaces.
How to purchase ETH:
To purchase ETH, you will need to join a centralized exchange such as Coinbase (the one most are familiar with and the one we recommend). Coinbase is an exchange where one can purchase, buy, sell, convert, and send cryptocurrency. In a way, Coinbase is like how one would interact with the stock market. If you are familiar with stock trading platforms like E-Trade, you will be extremely comfortable in Coinbase.
Coinbase is quick to set up, but you may need a few days before everything is approved. Coinbase needs Identity Documentation such as a passport or driver's license and then approval of a Payment Method (ACH or Bank Account connection is ideal).
Coinbase even has a helpful signup page for those looking to buy ETH.
Before you kick off your Coinbase journey, continue reading on. This is just one piece of the NFT buying process.
Step 2: Acquiring A Cryptocurrency Wallet (Needed To Purchase NFTs and Store Digital Assets)

Overview of Step 2:
Signup for a Cryptocurrency Wallet: Join MetaMask, which will be your own personal "digital wallet." With MetaMask, you get to store and use your cryptocurrency and digital assets (NFTs), and it also acts as a secure browser!
Transfer your ETH funds from Coinbase to MetaMask: You purchased ETH coin on Coinbase, but you can't use it anywhere. You will need to copy your MetaMask "personal address" and use it in Coinbase to send your ETH coin.
By this point, hopefully, you have signed up to Coinbase and possibly even purchased some fractional ETH cryptocurrency–you do not need to buy full coins.
Now that you have purchased your ETH coins, you may want to put them into action, like purchasing an NFT from one of the various marketplaces (Rarible, Opensea, etc.). To do so, you need a "Non-Custodial" wallet such as MetaMask. "Non-Custodial" wallets give you complete control over your crypto assets, as there is no third party involved. You cannot simply take your ETH coin from Coinbase to make purchases on an NFT marketplace as Coinbase is still technically controlling your assets. Once you transfer your currency from Coinbase to your wallet, you are free to do as you please!
The steps of transferring your ETH from Coinbase to MetaMask are quite simple but confusing at the outset. Your wallet will contain a "public address," which is the unique key that only exists for you. Copying this unique "public address" can be done at a click of a button and used when transferring your coin from Coinbase to MetaMask.
First, you will need to set up MetaMask either on your desktop or mobile device. We recommend doing both as then you'll have access to your cryptocurrency whether you are browsing the web on mobile or desktop.
Also, here's a great video from MetaMask that is worth your 2 minutes: What is MetaMask
How to set up a MetaMask wallet on a desktop:
Here is how to create a MetaMask desktop wallet via a Chrome extension. It is crucial that you only download from the official MetaMask site.
Go to MetaMask
Click the "Download" button on the homepage.
Click "Install MetaMask for Chrome." You will be automatically taken to the Google Chrome web store.
Click "Add to Chrome" and add the extension. Once installed, you will be able to view the MetaMask icon (fox head) in the top right corner of your browser by clicking on the puzzle piece icon.
Click "Get Started" and choose between importing an existing wallet or setting up a new one. Let's assume you don't have an existing wallet and need to create one. Click "Create a Wallet."
Create and confirm a password according to MetaMask's guideline of 8 characters minimum. Make sure your password is unique and not being used for anything else. Agree to the terms of use and hit "Create." Congratulations! You are now the owner of MetaMask wallet!
Once you've created your wallet, you will be able to view your seed phrase (the 12-word sequence used to recover and backup your wallet). Remember, this must be hidden and never shared with anyone. Do not take a picture or screenshot of your seed phrase — instead, write it down immediately on a piece of paper and put it in a secret, safe location. Even better, write your seed phrase down on 2-3 pieces of paper and store each paper in a separate secure location (like one in a personal safe and one in a bank safety deposit box). Alternatively, you can download the seed phrase and keep it offline on an encrypted hard drive. Having multiple backups of your seed phrase is good practice just in case one copy is ever lost or destroyed. After documenting your seed phrase, click "Next."
Confirm your seed phrase by clicking on the correct words in the correct order of your 12-word sequence and click "Confirm."
Click "All Done."
Optional – you can leave your new account as "account 1" or choose to rename it.
It's that easy! You can now access your MetaMask wallet via the fox icon in your browser and begin purchasing and receiving crypto! If you already have Ether in your Coinbase, you can use your brand new Ethereum address (the long number at the top of your wallet page starting with 0x…) to transfer them over into your MetaMask wallet. If you don't have a Coinbase account, you can buy Ether directly through MetaMask in some U.S. states. However, Coinbase is our favorite way to get Ether into your MetaMask wallet at the moment.
How to set up a MetaMask wallet on mobile:
MetaMask also offers a mobile wallet option for both ios and Android. Here are the steps to use MetaMask on your phone:
Download the MetaMask app to your smartphone (App Store for iPhone or Google Play Store for Android).
Click "Get Started"
Click "Sync with MetaMask extension."
Open your MetaMask desktop extension, go to Settings > Advanced, Click on "Sync with Mobile," and enter your password.
Using your phone's camera, scan the QR code to start syncing.
Now you will be able to access your MetaMask account from either your desktop or your phone! If you do not have the desktop extension and wish to create your first MetaMask account on mobile, follow the same steps above, but click "Create a new wallet" instead of "Sync with MetaMask extension." Then, follow the rest of the prompts to choose your password and see and confirm your seed phrase.
If you prefer to keep your crypto in cold storage, you can easily connect a hardware wallet like Ledger or Trezor to MetaMask. This gives you the security of a hardware wallet to connect with any MetaMask/web3 enabled sites.
Step 3: How to transfer your ETH from Coinbase to MetaMask

Now that you have your MetaMask wallet, you will want to transfer your funds out of Coinbase. Follow the below steps to transfer your cryptocurrency into your MetaMask wallet.
Step 1: Go to MetaMask and copy your public address.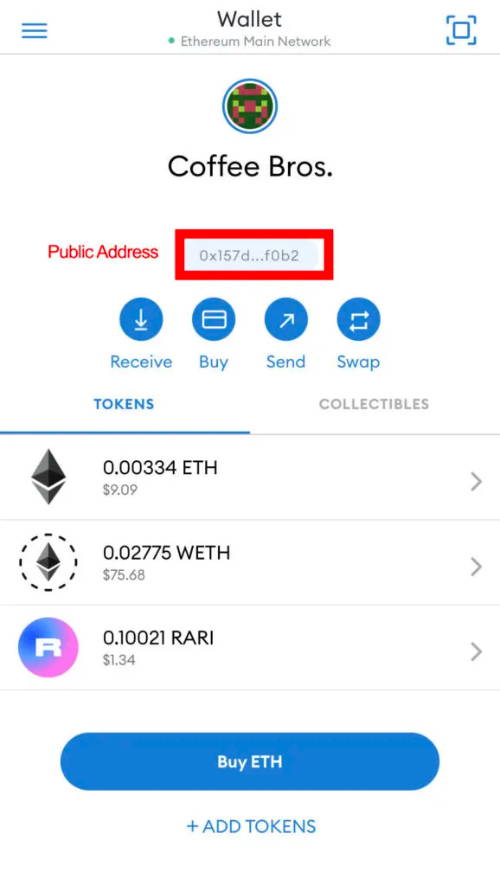 Step 2: Head over to Coinbase and click on the left/right arrow button, which allows you to buy, sell, and send cryptocurrency.
Step 3: Select how much cryptocurrency to send to MetaMask, drop your public address into the "to" field, and hit send!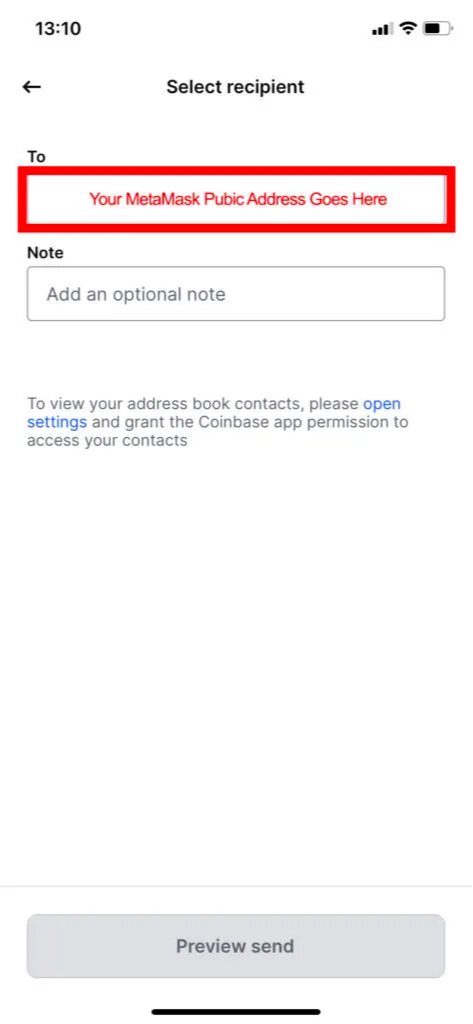 Step 4: Signup to Rarible (NFT Marketplace) and Sync Your MetaMask Wallet

You have purchased your first cryptocurrency, transferred it to your wallet, now you are ready to sign up to a marketplace and browse NFT offerings. Don't forget, follow Crypto Baristas on Rarible to stay up to date on all our limited NFT releases!
Now that you have your digital wallet, signing up to Rarible takes a click of a button.
Head over to Rarible and click on the "Connect" button. Depending on if you are operating through Desktop or Mobile, this button may be in different places.
Once you connect to Rarible with your MetaMask account, your cryptocurrency can be used to purchase or bid on any NFTs or live auctions.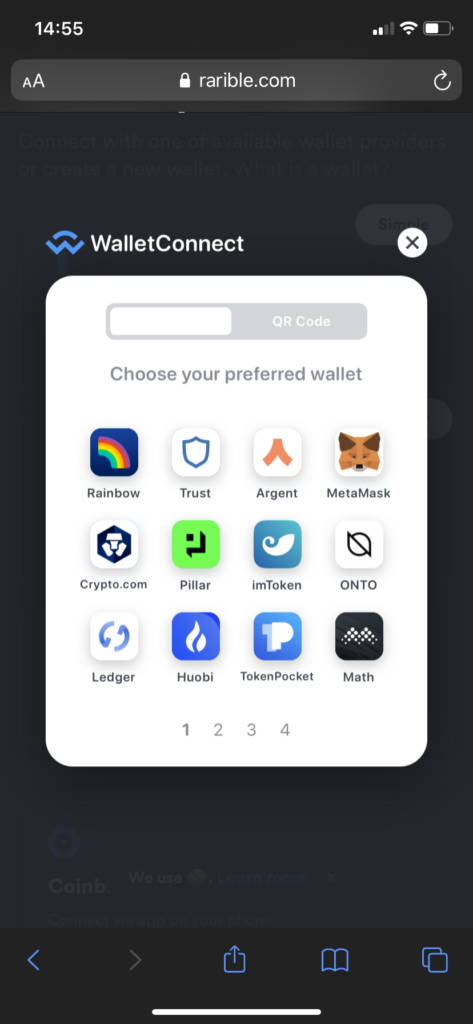 Step 5: Follow creators on Rarible like Crypto Baristas, MekaVerse, or VeeFriends

Now that you have ETH in your wallet and you are connected to Rarible, it is time to follow some noteworthy projects.
Project 1: Crypto Baristas
Crypto Barista's Season 1 will launch with 60 caffeine-loving characters whose ownership helps conceptualize and open the World's First NFT funded Café.
Owners of a Crypto Barista enjoy caffeinated perks for life at all future cafe spaces and websites. Owners also control the "Barista Bank," a 15% fund set aside from the project's revenue for future use in the coffee space. Some potential uses for the Barista Bank can support charitable organizations in the coffee space, advance the Crypto Barista project, or start something new.
Project 2: MekaVerse
The MekaVerse is a collection of 8,888 generative Mekas with hundreds of elements inspired by the Japan Mecha universes.
The MekaVerse project was created by Mattey and Matt B, two friends and 3D artists who have jumped feet first into the NFT space.
The roadmap of the MekaVerse project includes bringing to life the Mekas through high-quality, 3D-printed toys. The MekaVerse project continues to unfold as the roadmap is driven by the founders and holders of the characters. The project's future ambitions include streetwear, collaborations with famous artists, and potential short films using the characters.
Project 3: VeeFriends
VeeFriends is from none other than serial entrepreneur Gary Vaynerchuk. Gary serves as the Chairman of VaynerX, CEO of VaynerMedia, and the owner/creator of VeeFriends.
Simply put, VeeFriends is a ticket to Gary V's multi-day super conference, where only VeeFriends token holders gain access.
VeeCon is the first NFT ticketed conference in the world. VeeCon is where VeeFriends token holders come together as one community to build lasting friendships, share ideas, and learn together.
Step 6: Advice on buying your first NFT

You have made it to the final step of the process, it is time to finally purchase your first NFT!
Some words of advice, beware of gas fees!
When purchasing any NFT on Rarible, you will be hit with unexpected gas fees.
Gas fees: the fees purchasers pay to miners on the blockchain to confirm their transactions. The fees are fueled by supply and demand and change by the second.
It is important to keep an eye on gas fees by going to sites like Eth Gas Station. At Eth Gas Station you will be able to see how much current transactions will cost based on the standard, fast, or low speed of confirmation.
It may not always be possible to monitor gas fees and purchase your desired NFT when gas fees are low considering NFTs always operate via supply and demand. You may be interested in an auction that is ending within the next 10 minutes and if gas fees are high, you will, unfortunately, have to bear the brunt of those costs.
You did it! You may have gone from not knowing a thing about cryptocurrency to opening up a trading account, transferring currency to your wallet, then signing up and exploring an NFT marketplace. This is new to many of us, but many believe this technology will help shape the future across varying industries. We are lucky to be a part of this journey and hope that you join us. Click to learn more about The World's First NFT Funded Café through project Crypto Baristas.