Coffee Bros.
Baratza Encore ESP | Espresso Grinder | 120V | 40mm Conical Burrs
Regular price
Sale price
$199.99
Unit price
per
Sale
Sold out
We have 11 in stock
Baratza Encore ESP | Espresso Grinder
The Encore is Baratza's most-trusted grinder, and now re-engineered to be optimized for espresso. The Encore ESP features new metal internals for highly consistent grinds and durable, long-lasting operation. It comes with an anti-static portafilter dosing cup for faster workflow and reduced mess!
Features
40mm conical burrs
Micro step adjustment from #1-20 for espresso grinding
Macro step adjustment from #21-40 for filter brewing
230-gram bean hopper capacity
Easy removable and adjustable burrs for cleaning and calibration
Share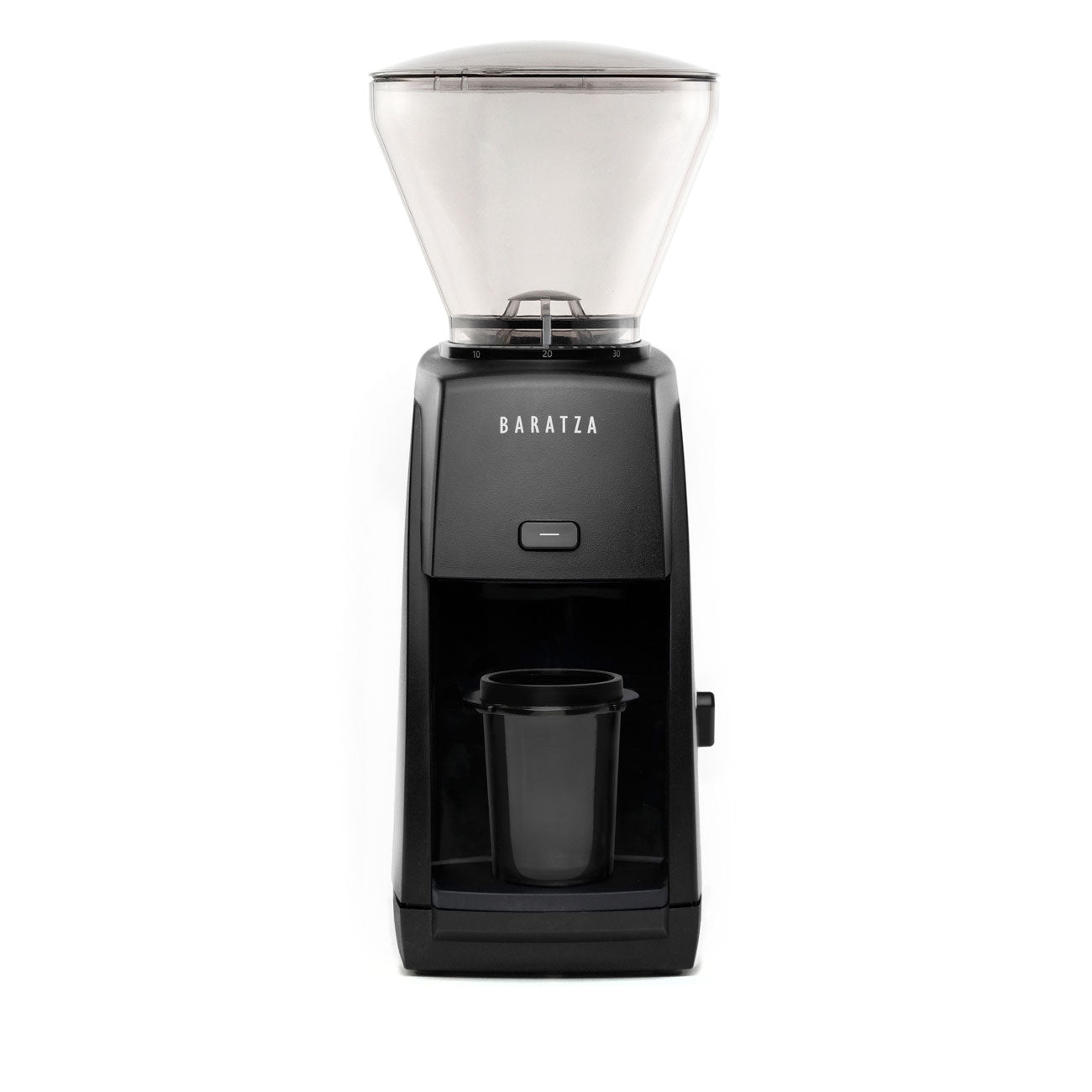 Baratza Encore ESP
The Encore is Baratza's most trusted grinder, and now re-engineered to be optimized for espresso.
Baratza's new, espresso-optimized coffee grinder re-engineers an industry classic to make high-resolution grinding simple, repeatable, and approachable. It's another way Baratza is making specialty coffee accessible for all.
Baratza offers Specialty Coffee Association award-winning grinders that are often at the top of the list from baristas and review sites as well-built, user-friendly, and high-quality entry-level grinders.
The Encore ESP features new metal internals for highly consistent grinds and durable, long-lasting operation and at a price below $200.00 it can't be beaten.
Encore ESP Features:
Conical Burrs

40mm M2 Conical Burrs manufactured in Liechtenstein

Burr Removal

Quick-release burr removal for easy cleaning and maintenance

Dual-Range Adjustment System

Innovative multi-purpose adjustment mechanism features micro-steps from #1-20 for espresso grinding, and
macro-steps from #21-40 for filter brewing

Gearbox

Simple and efficient gearbox that helps protect the motor from overheating due to excessive use

Low Retention

The beans are ground in a straight-thru vertical manner which is highly efficient and results in minimal residual coffee left in the system

Powerful Motor

Powerful DC motor for maximum starting torque, efficiency, and longevity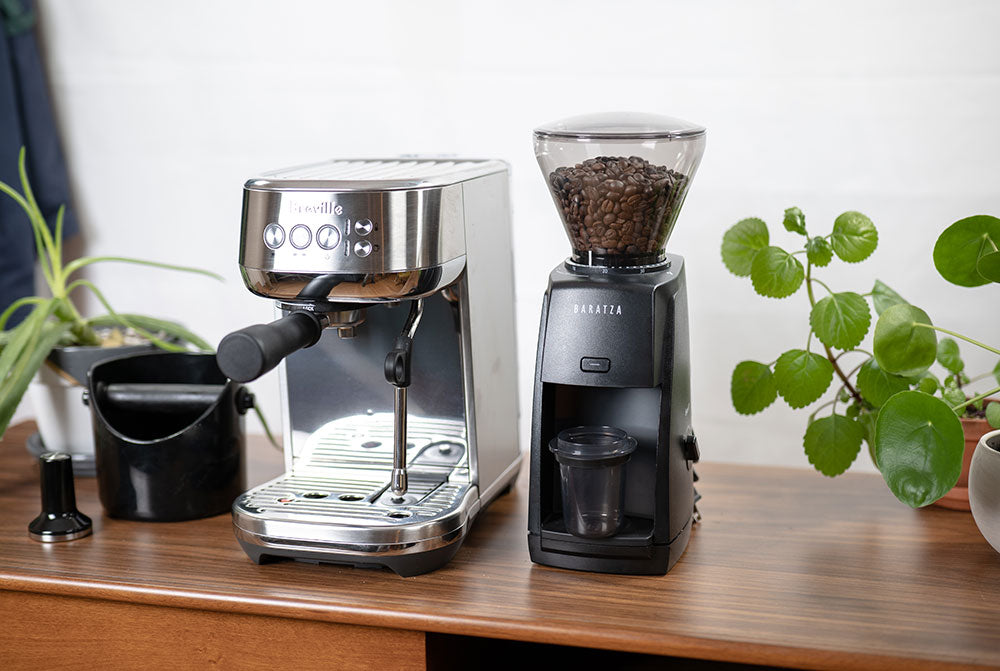 Elevate Your Home Espresso Game
Our aim was to make the process of achieving the perfect espresso shot at home as effortless and as cost-efficient as possible, and we've achieved that with the Encore ESP grinder. With its user-friendly controls and an extensive range of grind settings, you'll find it easier than ever before to get the precise consistency of grounds you need to create a rich, flavorful espresso. But that's not all - the Encore ESP also features a unique speed control mechanism that combines gear and electronic speed reduction to regulate the burr's rotation speed at a gentle 550 RPM. This deliberate slowing of the burr minimizes heat, noise, and static generation, and ensures the smooth, uninterrupted flow of beans into the burrs. By investing in the Encore ESP, you'll be elevating your home espresso game to a whole new level of quality and convenience.
Additional Features
Dosing Cup and Adapter: The Baratza Encore ESP's 54mm dosing cup, along with the included 58mm adapter ring, allows for a clean and consistent transfer of coffee grounds directly into your portafilter. This feature minimizes mess and ensures an even distribution of grounds that are ready to be tamped. Say goodbye to uneven shots and hello to perfectly extracted espresso with our dosing cup.
Burrs: Crafted in Europe, the Encore ESP Espresso Grinder boasts of 40mm conical M2 steel burrs that are ideal for achieving consistent and precise grinds that are essential for making the perfect espresso or any other brew method.
Quick-release burr and cleaning: Cleaning and maintaining the Encore ESP's cone burr has never been easier! With its user-friendly design, the cone burr can be easily removed without the need for any additional tools.
Gearbox: The Encore ESP grinder uses a direct drive gear reduction transmission to power its rotating cone burr, resulting in a smooth and efficient grinding process. Its thermal overload cutout feature prevents the motor from overheating during extended usage, ensuring longevity and reliability.
Grounds left in grinder: To maximize freshness, the Encore ESP minimizes the ground coffee left in the grinder.
Motor: A powerful, high torque DC motor effortlessly drives the burrs. This motor turns slowly resulting in cool, quieter operation, and permits long grinding duty cycles. The circuitry is equipped with an automatically resetting, thermal cutoff switch.
Calibration: An innovative burr calibration system ensures that each grinder comes ready to grind for most home espresso machine portafilter baskets. If necessary, the grinders can be user-calibrated.
Speed Control: With unique speed control, the Encore ESP uses a combination of gear and electronic speed reduction to control the rotation of the burr to 550 RPM. This slow speed reduces heat, noise, and static generation in the grinder. It also ensures that the beans feed smoothly into the burrs.
Reviews
Simple and Brilliant: "Wow. That's simple and brilliant!"
The Encore ESP espresso grinder packs a ton of precision in a small package thanks to its high-density steel burr and the clever adjustment system."
The best at the price point: "Quite honestly the best home grinder I could invest my money and time into."
At just $199, the precision required for espresso is finally available for every budget!
Pros

Budget-friendly: Budget friendly price point which a high-quality motor and solid burrs.

Grind Quality for the Price: The grind quality for espresso produced by the Encore ESP is exceptional compared to any other grinder at this price point.

Micro adjustments: #1-20 micro steps for easy adjusting and dialing-in for espresso.

Shim kit included: Add in a shim below the burrs for an even finer grind.

Cons

Just Espresso: We still only recommend the Encore ESP for espresso though it has macro adjustments for filter brewing.

Budget-friendly: While being budget-friendly is a perk, it also means that it will lack certain features like digital displays for saved recipes or monitoring time or weight of the grounds.

Shim needed: A shim needs to be installed to hit extremely fine grind settings.
Baratza Encore ESP Specs
| | | | |
| --- | --- | --- | --- |
| Best for | Espresso grinding only | Espresso grinding only | Filter Grinding Only |
| Weight-based Dosing | No | Yes | No |
| Speed To Grind | Espresso 1.5g/sec— 2.4g/sec | Espresso 3.5g/sec—Manual Brewing 5.5g/sec | 1.5g/sec.—2.4g/sec. |
| Burrs | 40 mm Steel by Etzinger | 40 mm Steel by Etzinger | 40mm conical burrs |
| Bean Hopper Capacity | 8.5 oz (230 g) | 10 oz (300-400 g) | 8oz (227g) |
| Grounds Bin Capacity | Grounds Bin: 142 g, Dosing Cup: 24g | 5.5 oz (160g) | 5oz (142g) |
| Weight | 7lbs (3.1 kg) | 7lbs (3.2 kg) | 8lbs (3.6kg) |
| Dimensions WxHxD (inches) | 12.0 / 35.0 / 16.0 | 5.11 / 14.96 / 9.8 | 4.7 / 13.7 / 6.2 |
| Power Rating | 100-120VAC 50/60 Hz, 200W 2.6A | 100-120VAC 50/60 Hz, 200W 2.6A | 120 V AC 180 Watts 50/60 Hz. 1.5 Amp |
| Safety Listing | UL/CSA/CE/EK | UL/CSA/CE/EK | UL/CSA/CE/EK |
| Designed & Engineered | Seattle, WA, USA | Seattle, WA, USA | Seattle, WA, USA |
| Manufactured & Assembled | Taiwan | Taiwan | Taiwan |
About Baratza
About Baratza

Since its inception in 1999, Baratza has been dedicated to providing high-quality, state-of-the-art grinders for coffee enthusiasts. Founded by the dynamic team of Kyle Anderson and Kyra Kennedy, the company quickly gained a reputation for innovation, quality, and consistency.

In 2001, Baratza introduced the Maestro, which was followed by the Maestro Plus in 2003. In 2005, the company launched the Virtuoso, which was the first conical burr grinder to carry the Baratza name. The Maestro and Maestro Plus were also updated around this time.

In 2007, Baratza upgraded the Maestro and Maestro Plus grinders. In 2008, the company introduced the Vario, which was a light commercial grinder with flat ceramic burrs and micro/macro adjustment. The Preciso, a conical burr grinder with macro/micro adjustment, was introduced in 2010.

In 2011, Baratza began offering weight-based grinding with the Esatto and Vario-W. Both grinders were awarded the SCAA Best New Products award that year. In 2013, the Forté grinder was awarded the SCAA Best New Product (Commercial) award.

In 2016, Baratza introduced the Sette Series, which includes the Sette 270 and Sette 270W. Both grinders feature a revolutionary burr mechanism with a rotating ring burr and a fixed cone burr, and have minimized grinds retention, incredible speeds for a home grinder. Additionally, the Sette 270W allows you to grind by weight into a portafilter. The Sette 270W was awarded Best New Product for Consumer Coffee or Tea Preparation and Serving Equipment (Electrical) from SCAA.

Throughout the years, Baratza has been continuously pushing the boundaries of coffee grinder technology, and have been consistently honored for their exceptional quality and performance.
Where are Baratza grinders manufactured?

Baratza creates the designs for their grinders in Seattle, manufactures them in Taiwan using precision burrs sourced from Europe, and distributes them globally through an expanding network.
Resources
Warranty Information

What it Covers: This warranty covers all defects in materials and workmanship (parts and labor) including free ground transportation to and from our repair facility within the US and Canada.

Length:

Grinders: 1 year parts and labor

Contact: support@baratza.com

User Manual: Baratza Encore ESP User Manual

Care and Maintenance

The cone burr is easily removable with no tools, making cleaning very easy.
We recommend cleaning the burrs with a small brush weekly (depending on use).