Coffee Bros.
Baratza Sette 270Wi | Espresso Grinder | 120V | 40mm Conical Burrs
Regular price
Sale price
$599.95
Unit price
per
Sale
Sold out
We have 16 in stock
Share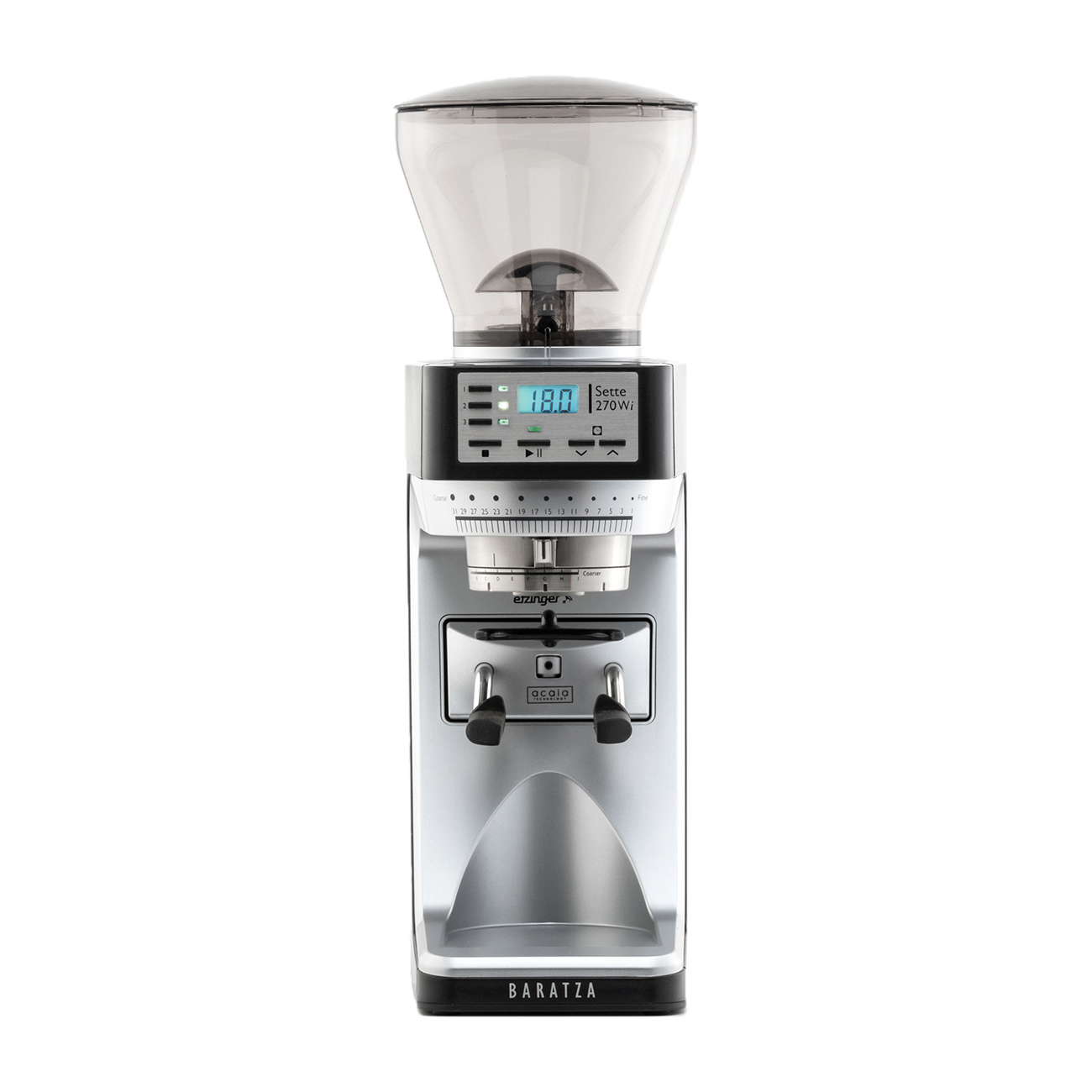 Baratza Sette 270Wi
Baratza's Sette 270Wi is a new espresso-focused grinder that builds on the already impressive features of the Sette grinder. It includes weight-based dosing, three programmable presets up to 99.9 g, and 30 macro grind settings, as well as a stepless micro grind range. The unique pass-through grinding mechanism is efficient, leaving almost no ground coffee behind even at fine espresso settings.
The built-in Acaia weighing technology includes Bluetooth connectivity, allowing users to pair the Sette 270Wi with the Sette Updater app on iOS to ensure timely software updates.
The Sette 270Wi grinder also includes a convertible device holder for hands-free grinding, a portafilter, a grounds bin, and compatibility with most popular brewing devices. All in all, the Sette 270Wi is a high-quality, easy-to-use grinder that is perfect for the home espresso enthusiast.
Sette 270wi Features:
Advanced Burrs

The 40mm conical S1 burrs manufactured by Etzinger in Liechtenstein

Built-in Scale

The built-in Acaia high precision scale eliminats any unwanted vibrations that may impact dosing accuracy

Digital Control

The front-mounted LED display is user-friendly, with 3 programmable buttons for precise grind weight setting within 0.1g.

Stepless adjustment

30 macro steps with 9 stepless micro-adjustments

Low Retention

The beans are ground in a straight-thru vertical manner which is highly efficient and results in minimal residual coffee left in the system.

Powerful Motor

Powerful DC motor for maximum starting torque and efficiency, resulting in cooler operation.
Precision Acaia Built-In Scale
The Sette 270Wi is designed with a built-in scale that utilizes Acaia weighing technology for precise and accurate weight-based dosing, with a sensitivity of 0.1 gram. This grinder has a revolutionary feature of being able to grind by weight directly into a portafilter, an innovation in grinding technology. This unique design caters to the growing trend among specialty coffee enthusiasts of using specific weight-based recipes for coffee preparation.
Versatile Grind Capability
The gearbox and burrset design of the Setter 270Wi grinder allows for quick grinding with minimal waste, and the integrated adjustment assembly offers a wide range of grind settings. The device holder can be converted for hands-free grinding into a portafilter, grounds bin, or other popular brewing devices, giving you the flexibility to experiment with different brewing methods.
Additional Features
Pulse Grind: "Quick Burst" feature for adding small amounts to the dose after the grinder has stopped.
Bluetooth: Bluetooth connectivity allows for wireless software updates using an Apple phone or tablet.
Convertible Grinding Forks: Convertible grinding forks - grind hands-free directly into a portafilter, or convert to grind into the included bin or your favorite dripper.
Three Presets: Weight-based grinding with three customizable presets.
Low Retention: Revolutionary pass-through grind mechanism with little retention of coffee grounds.
A Perfect Grind!
"The grinder is ideal for single dose with no retention, and the scale makes it easy to improve workflow and find the perfect settings for the coffee of the week. The hopper can hold a 12 oz bag which is perfect for my household's weekly coffee consumption."
- Customer Review
Pros

Accurate Grind: The new control board and Acaia scale included with the grinder provide exceptional precision.

Premium Features: The 270wi has a premium feel thanks to its slower grind speed, quieter sound, and inclusion of a true pulse button.

Grind Quality for the Price: The grind quality for espresso produced by the Sette line is exceptional, and it offers this performance at a smaller and more affordable price point than many of its rivals.

Portafilter: 58mm portafilter that supports all your standard puck preparation tools and filters.

3 (Three) Year Warranty: We're proud to offer three years of parts and labor support for every Rocket machine purchase.

Cons

Just Espresso: We still only recommend the Sette 270Wi for espresso drinkers.

Shim needed: A shim needs to be installed to hit extremely fine grind settings. All grinders sold by Coffee Bros. have the shim already installed so no need to worry!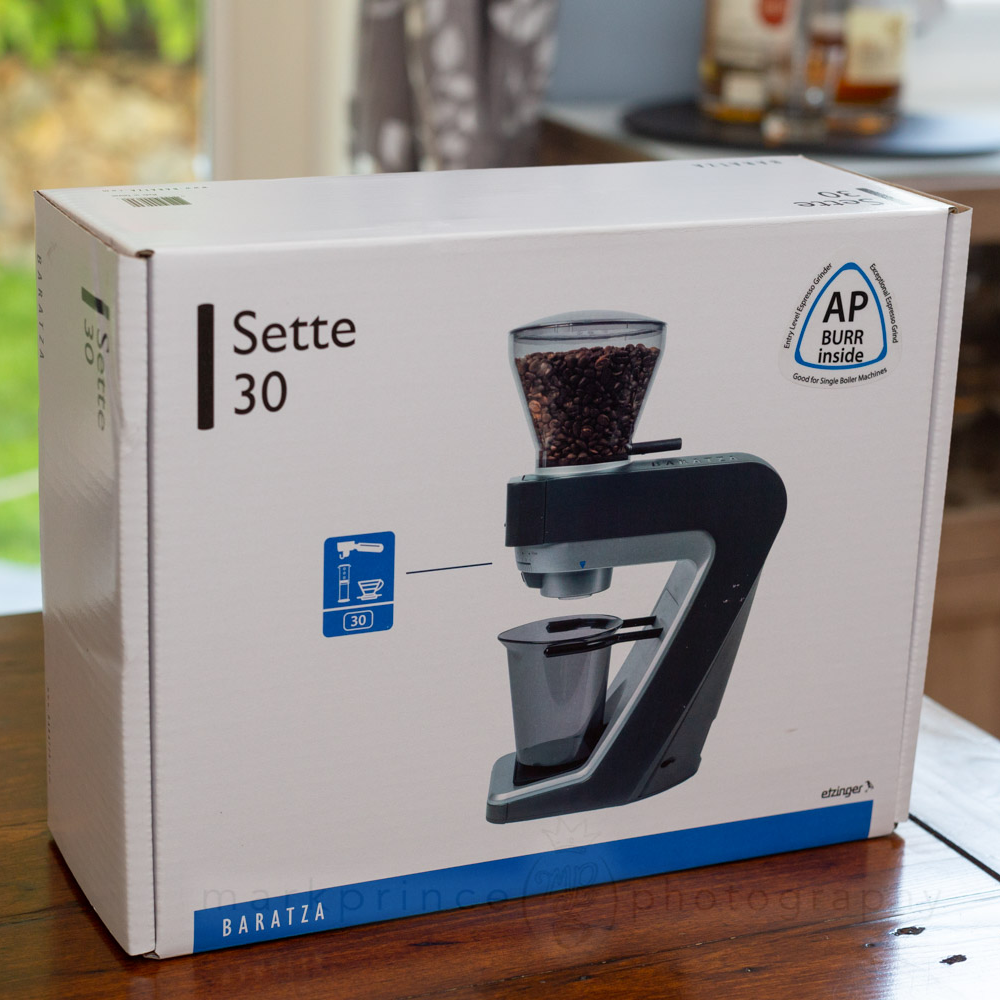 What's Included?
Baratza Sette 270Wi grinder
Removable power cable
Grinds bin
10 oz capacity shut-off hopper
Baratza Sette 270Wi Specs
| | | | |
| --- | --- | --- | --- |
| Best for | Espresso grinding only | Espresso grinding only | Filter Grinding Only |
| Weight-based Dosing | Yes | No | No |
| Speed To Grind | Espresso 3.5g/sec—Manual Brewing 5.5g/sec | Espresso 3.5g/sec—Manual Brewing 5.5g/sec | 1.5g/sec.—2.4g/sec. |
| Burrs | 40 mm Steel by Etzinger | 40 mm Steel by Etzinger | 40mm conical burrs |
| Bean Hopper Capacity | 10 oz (300-400 g) | 10 oz (300-400 g) | 8oz (227g) |
| Grounds Bin Capacity | 5.5 oz (160g) | 5.5 oz (160g) | 5oz (142g) |
| Weight | 7lbs (3.2 kg) | 7lbs (3.2 kg) | 8lbs (3.6kg) |
| Dimensions WxHxD (inches) | 5.11 / 14.96 / 9.8 | 5.1 / 15.7 / 9.4 | 4.7 / 13.7 / 6.2 |
| Power Rating | 100-120VAC 50/60 Hz, 200W 2.6A | 100-120VAC 50/60 Hz, 200W 2.6A | 120 V AC 180 Watts 50/60 Hz. 1.5 Amp |
| Safety Listing | UL/CSA/CE/EK | UL/CSA/CE/EK | UL/CSA/CE/EK |
| Designed & Engineered | Seattle, WA, USA | Seattle, WA, USA | Seattle, WA, USA |
| Manufactured & Assembled | Taiwan | Taiwan | Taiwan |
Baratza Sette 270Wi Questions
What is the difference betwen the Baratza Setter 270 and the 270Wi?

The 270w model comes with a built-in scale that allows you to grind to a specific weight. On the other hand, the 270 model requires you to set the grind time in seconds and then weigh the grounds separately using an external scale.
Does this Baratza Sette 270Wi machine have a pulse button?

The grinder comes with a play/pause button that begins a pre-set weight-based grind cycle. If the desired quantity isn't reached, you can use the pulse feature by pressing the play button for a quick grind, stopping when you have the desired amount.
What is a good espresso machine to use alongside this grinder?

The Sette 270Wi is a great match for the high-quality Rocket Espresso Giotto Type V or Appartamento models. Together, the two machines will produce delicious shots of espresso.
Can you use the Sette 270Wi to grind for drip coffee also?

The Sette 270Wi is best suited for fine grinding and espresso brewing.
Can the Sette 270Wi hold a bottomless portafilter and still weigh accurately?

Yes, the Sette 270Wi can hold and properly weigh coffee when using a bottomless portafilter
Will the Sette 270Wi work well with my E61 single boiler lever espresso machine and still be good for my Chemex?

The Sette is optimized for espresso, it excels with its weight dosing with the portafilter fork. However, it is not very convenient for switching between grind settings. It requires running the grinder and wasting coffee to make adjustments. It would be better to have a dedicated espresso grinder and a separate, one for other brewing methods like filter or pour over brewing.
About Baratza
About Baratza

Since its inception in 1999, Baratza has been dedicated to providing high-quality, state-of-the-art grinders for coffee enthusiasts. Founded by the dynamic team of Kyle Anderson and Kyra Kennedy, the company quickly gained a reputation for innovation, quality, and consistency.

In 2001, Baratza introduced the Maestro, which was followed by the Maestro Plus in 2003. In 2005, the company launched the Virtuoso, which was the first conical burr grinder to carry the Baratza name. The Maestro and Maestro Plus were also updated around this time.

In 2007, Baratza upgraded the Maestro and Maestro Plus grinders. In 2008, the company introduced the Vario, which was a light commercial grinder with flat ceramic burrs and micro/macro adjustment. The Preciso, a conical burr grinder with macro/micro adjustment, was introduced in 2010.

In 2011, Baratza began offering weight-based grinding with the Esatto and Vario-W. Both grinders were awarded the SCAA Best New Products award that year. In 2013, the Forté grinder was awarded the SCAA Best New Product (Commercial) award.

In 2016, Baratza introduced the Sette Series, which includes the Sette 270 and Sette 270W. Both grinders feature a revolutionary burr mechanism with a rotating ring burr and a fixed cone burr, and have minimized grinds retention, incredible speeds for a home grinder. Additionally, the Sette 270W allows you to grind by weight into a portafilter. The Sette 270W was awarded Best New Product for Consumer Coffee or Tea Preparation and Serving Equipment (Electrical) from SCAA.

Throughout the years, Baratza has been continuously pushing the boundaries of coffee grinder technology, and have been consistently honored for their exceptional quality and performance.
Where are Baratza grinders manufactured?

Baratza creates the designs for their grinders in Seattle, manufactures them in Taiwan using precision burrs sourced from Europe, and distributes them globally through an expanding network.
Resources
Warranty Information

What it Covers: This warranty covers all defects in materials and workmanship (parts and labor) including free ground transportation to and from our repair facility within the US and Canada.

Length:

Grinders: 1 year parts and labor

Contact: support@baratza.com

User Manual: Baratza Sette 270Wi User Manual

Care and Maintenance

The cone burr is easily removable with no tools, making cleaning very easy.
We recommend cleaning the burrs with a small brush weekly (depending on use).