Dark Roast Coffee
Regular price
Sale price
$16.99
Unit price
per
Sale
Sold out
Level: Specialty Dark | Agtron: # 55 - 61
Coffee Details

Taste Notes: Dark Chocolate, Creamy Caramel, and Fresh Maple Syrup

Process: Natural/Wet-Hulled

Roast Profile: Dark

Agtron: 60.4 (Specialty Dark)

Origin: Minas Gerais, Brazil & Kayu Aro, Indonesia

Varietal: Yellow Catuai, Red Catuai, Catimor

Altitude: Mixed: 1,000 - 1,600 masl
Roast Days & Orders

Next Roast Dates: (all coffee sent will be within five days of roast date)

Roasts weekly every Saturday

Orders: All orders placed will be shipped the next day (excluding Sunday) if there is inventory; otherwise, your order will go out on our next roast day each Saturday.
Description

Bold and Flavorful: This coffee hits on all the traditional dark roast flavors yet is roasted slightly lighter to highlight the coffee's natural flavor notes. Never bitter, with low acidity, all while retaining its bold and smooth flavor.

Arabica Coffee: Our blends are made from 100% Arabica coffee beans. Arabica Coffee has twice the flavor and a better aroma than its counterpart.

Flavor First:  We specifically chose this blend and this roasting technique because the taste notes that were achieved this way were phenomenal; dark chocolate, creamy caramel, and fresh maple syrup.

Freshly Roasted:  We roast our coffee immediately after an order to ensure we lock in flavors and maximize freshness.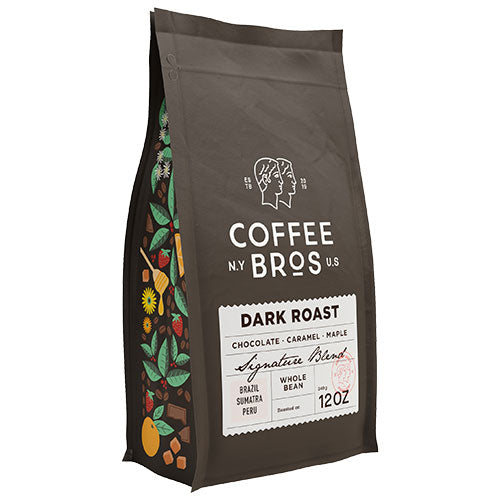 Blend Details
Flavor Profile

Dark Chocolate, Creamy Caramel, and Fresh Maple Syrup

Origin

Minas Gerais, Brazil & Kayu Aro, Indonesia

Varietal

Yellow Catuai, Red Catuai, Catimor

Altitude

Mixed (1,000 - 1,600 masl)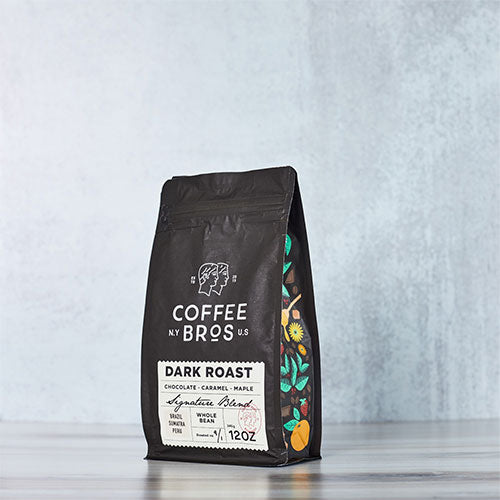 About Our Dark Roast:
This dark roast is made from 100% Arabica coffee beans and tastes like the traditional dark roast coffee flavor that you would expect. We've perfected this blend by roasting lighter to avoid the charred, bitter taste and to enhance the natural flavor notes. We specifically chose this blend and this roasting technique because the taste notes that were achieved this way were phenomenal.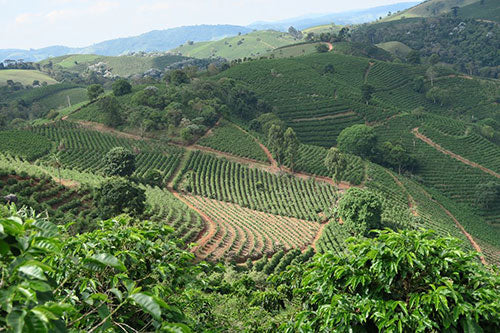 Brazil:
The coffee from Brazil is grown in the unique micro-regions of Machado, Poco Fundo and Campestre, located in Minas Gerais State, Brazil. Most coffee regions in Brazil are well known for large coffee plantations. Our coffee goes in the opposite direction, consisting of small farms called sitios. All lots are purchased directly from growers committed to quality and willing to provide detailed information about their sitios, harvesting methods, drying techniques and other relevant information about their coffee.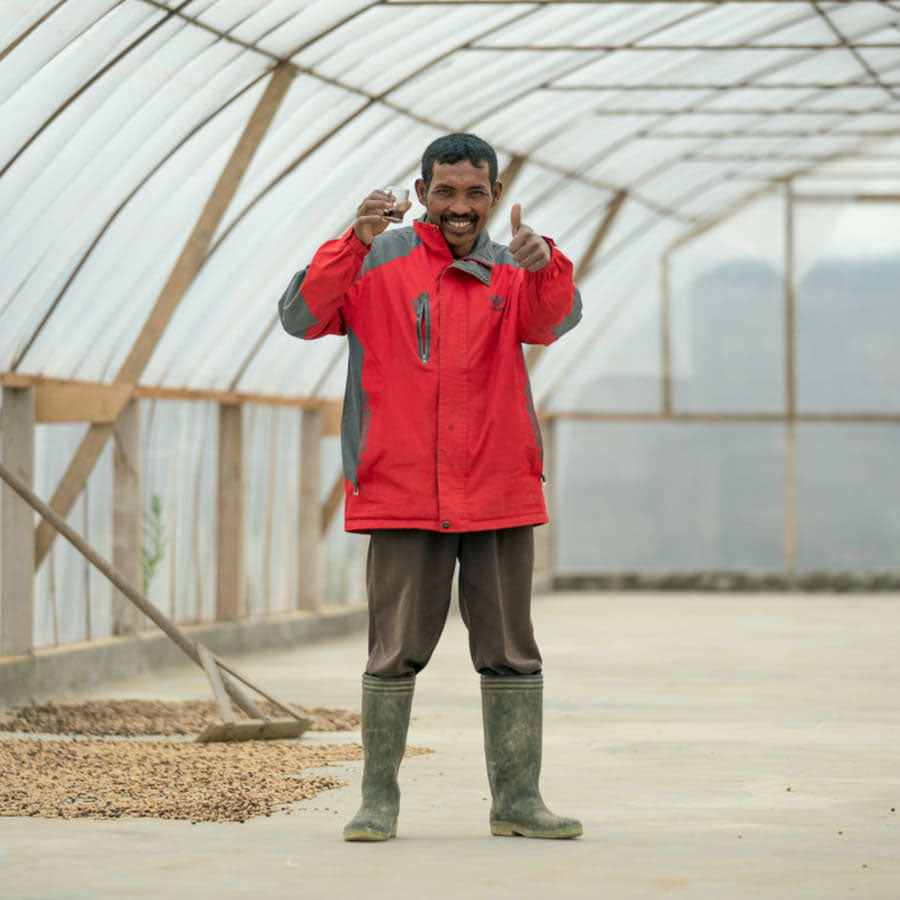 Sumatra:
This coffee comes from a small mill in the Pegasing district of Takengon, in Sumatra's coffee-famous Aceh region. The mill serves several small coffee producers within the Pantan Musara villages; several years ago, these producers were dislocated from their homes and land because of a natural disaster, and they have rebuilt their lives and farms with a new focus on coffee. Unlike the vast majority of other Sumatran coffee receiving and processing centers, this mill is producing Washed coffees, as well as Naturals.
Frequently Asked Questions
Is your Dark Roast okay to use in a super-automatic espresso machine?

Yes! All of our dark roast coffees are roasted a touch lighter to avoid any
spotting of oils on the surface of the coffee beans. Super-automatic coffee machines should not use overly oily coffee, which we avoid at all costs.
Is the roast date printed?

Yes, our roast date is printed on the bottom of each bag.
Is the coffee roasted to order?

Yes, we currently roast all orders twice a week (Tuesday and Saturday).
Is coffee seasonal like produce?

Just like produce, coffee can have multiple seasons and harvests depending on the country of origin. We source all our raw materials during the current and optimal season.
Where do you currently source your coffee from?

Brazil, Colombia, Ethiopia, Kenya, Tanzania, Costa Rica, Sumatra, Honduras, Nicaragua