Coffee Bros.
Moccamaster KBGV Select | 10-Cup Coffee Maker | 40-ounce
Regular price
Sale price
$359.00
Unit price
per
Sale
Sold out
We have 10 in stock
Experience the ultimate coffee perfection with the Moccamaster KBGV Select. This exceptional coffee brewer is meticulously designed to prioritize the four T's: Temperature, Time, Turbulence, and Total Dissolved Solids, ensuring an unparalleled brewing experience.
The KBGV Select guarantees a consistent and ideal temperature throughout brewing, resulting in a precisely brewed cup of coffee every time. Its pulsing brew style and the cone-shaped brew basket create the perfect turbulence to extract the maximum flavor, complexity, and aroma from your coffee beans.
Indulge in the optimized coffee extraction provided by the Moccamaster KBGV Select, and savor the rich and captivating flavors that will elevate your coffee enjoyment to new heights.
Share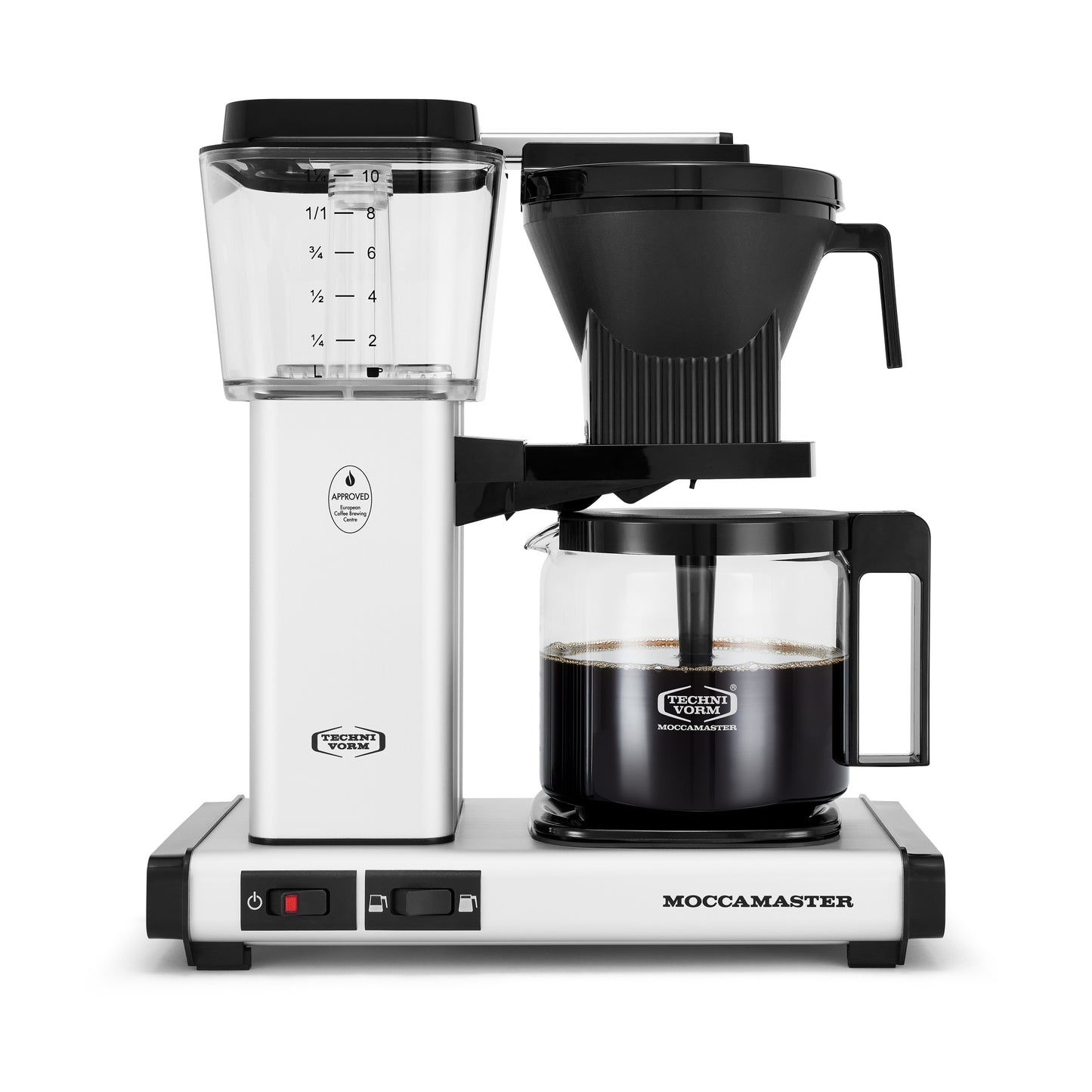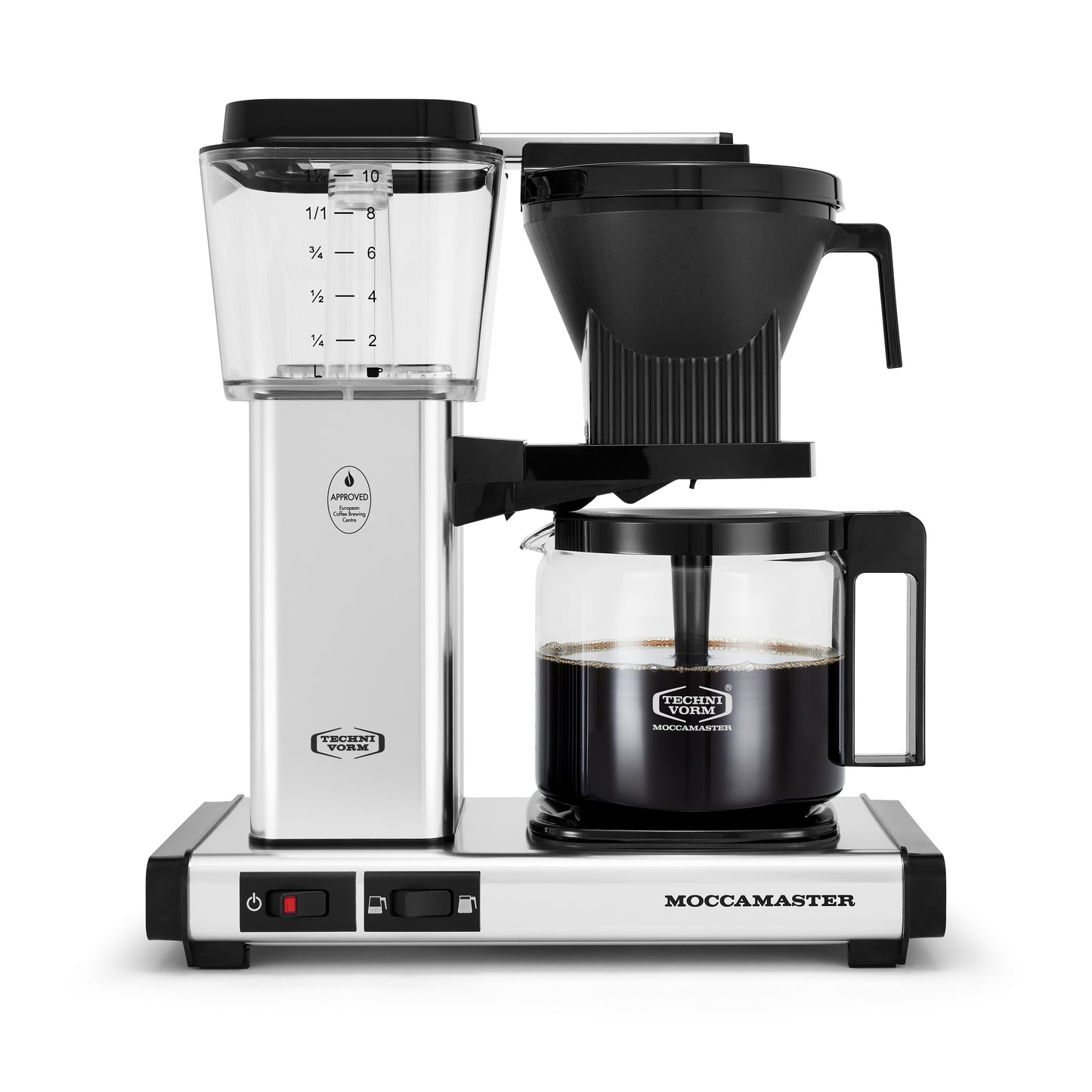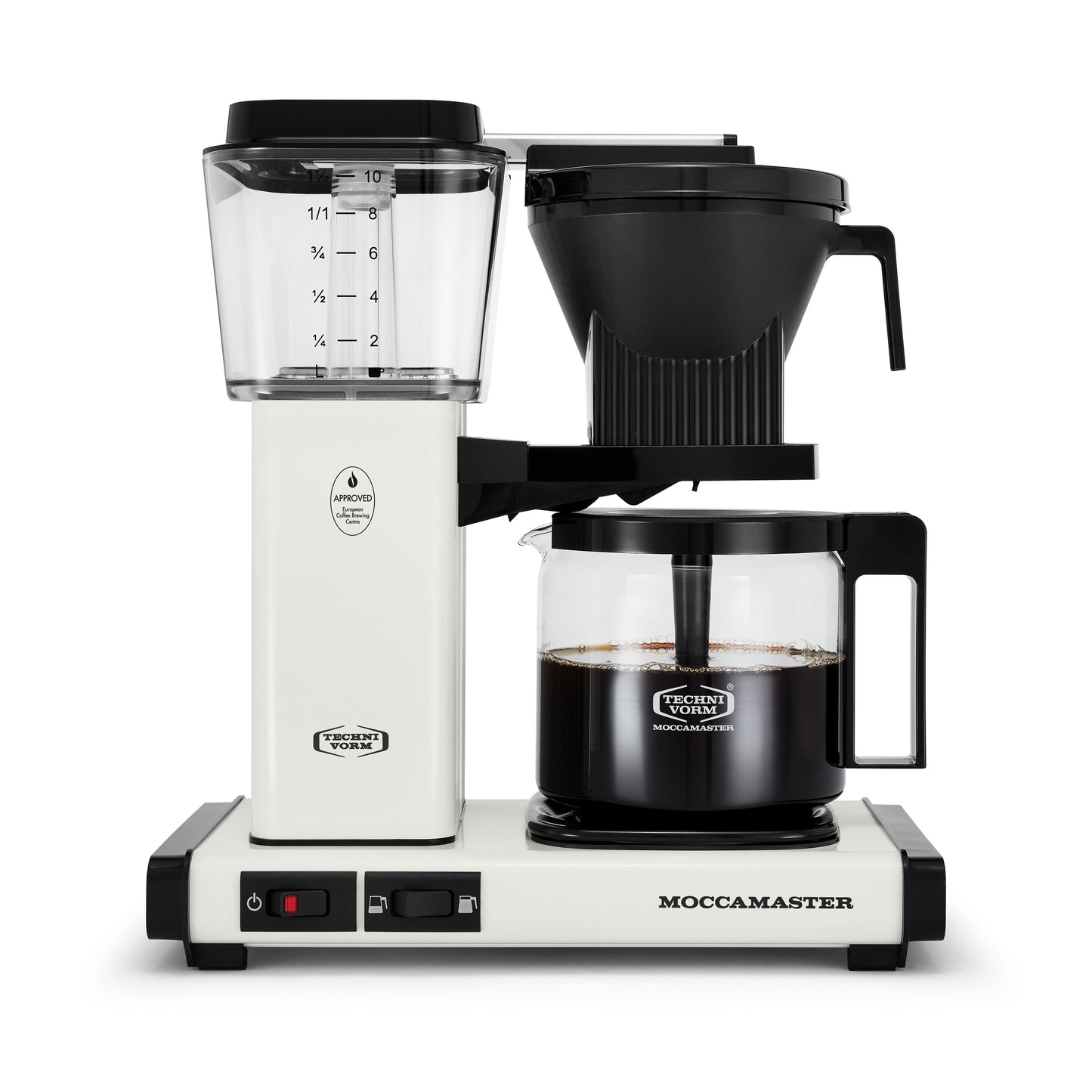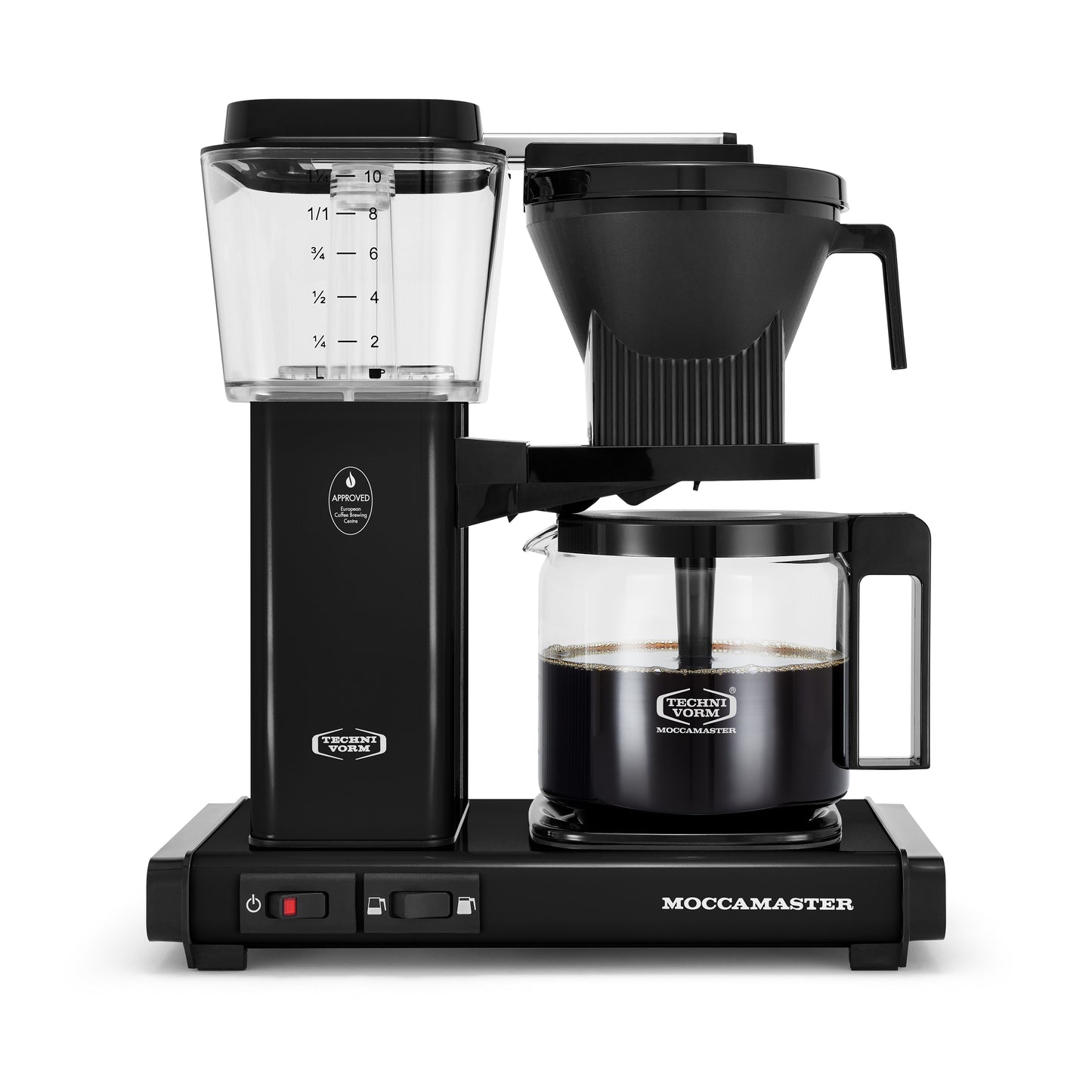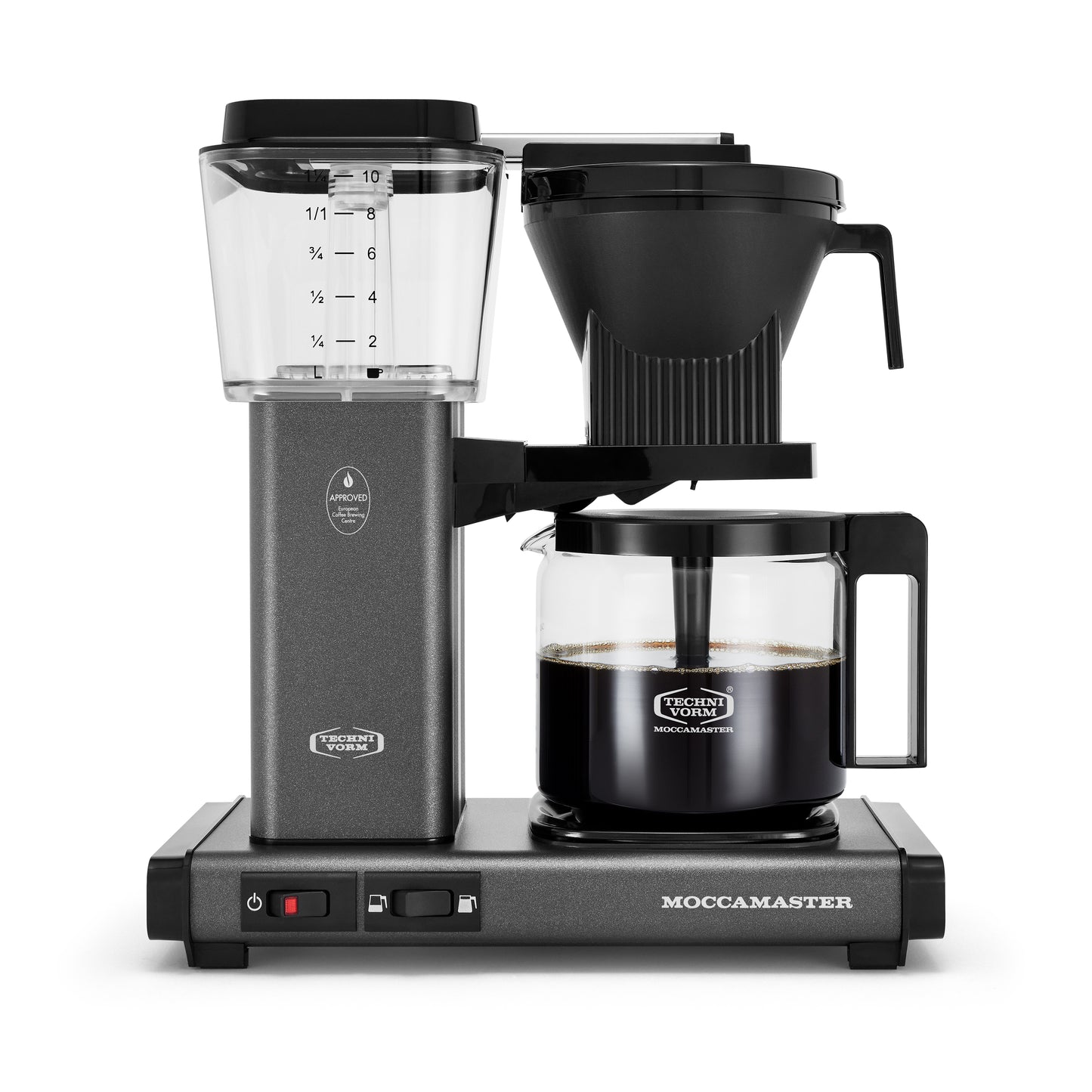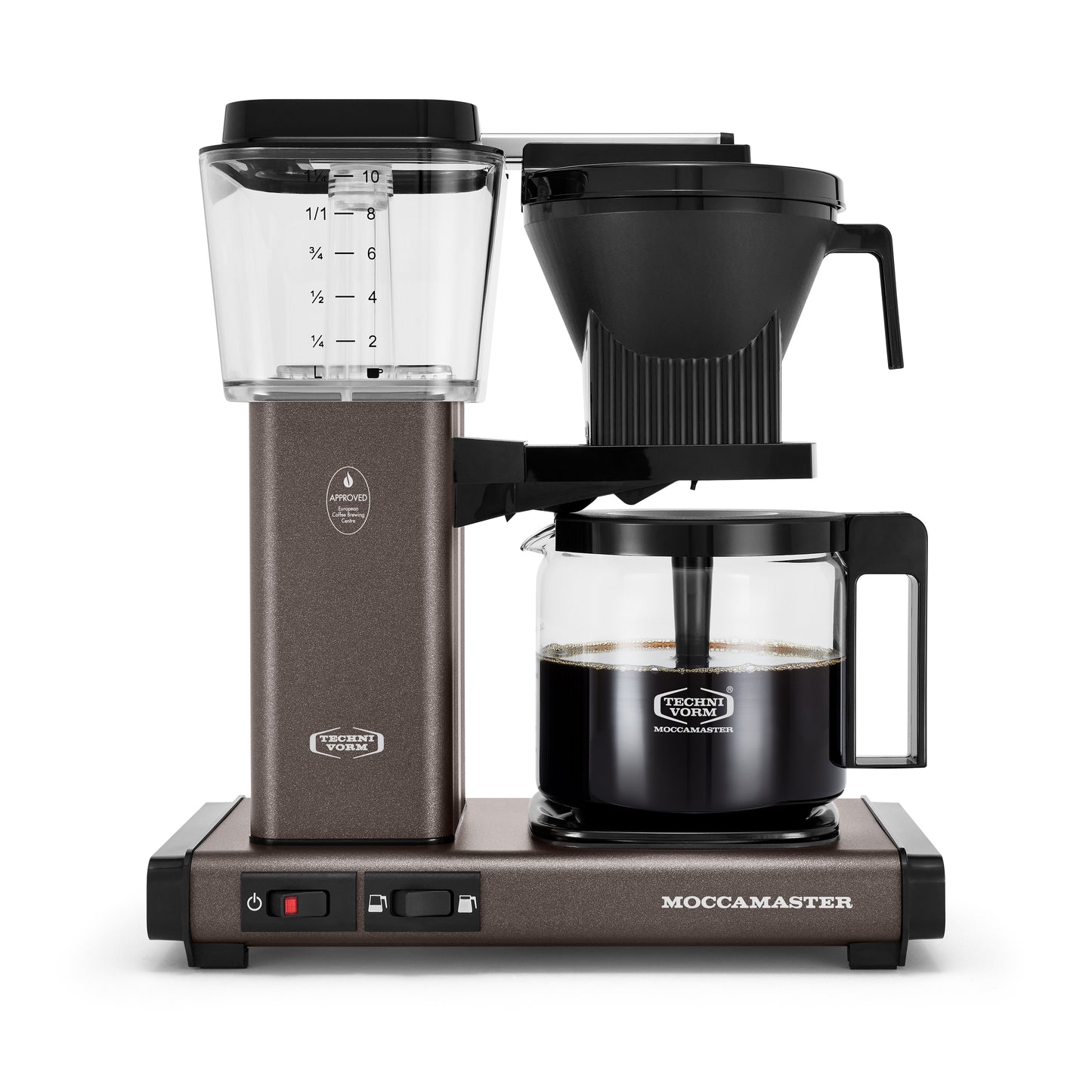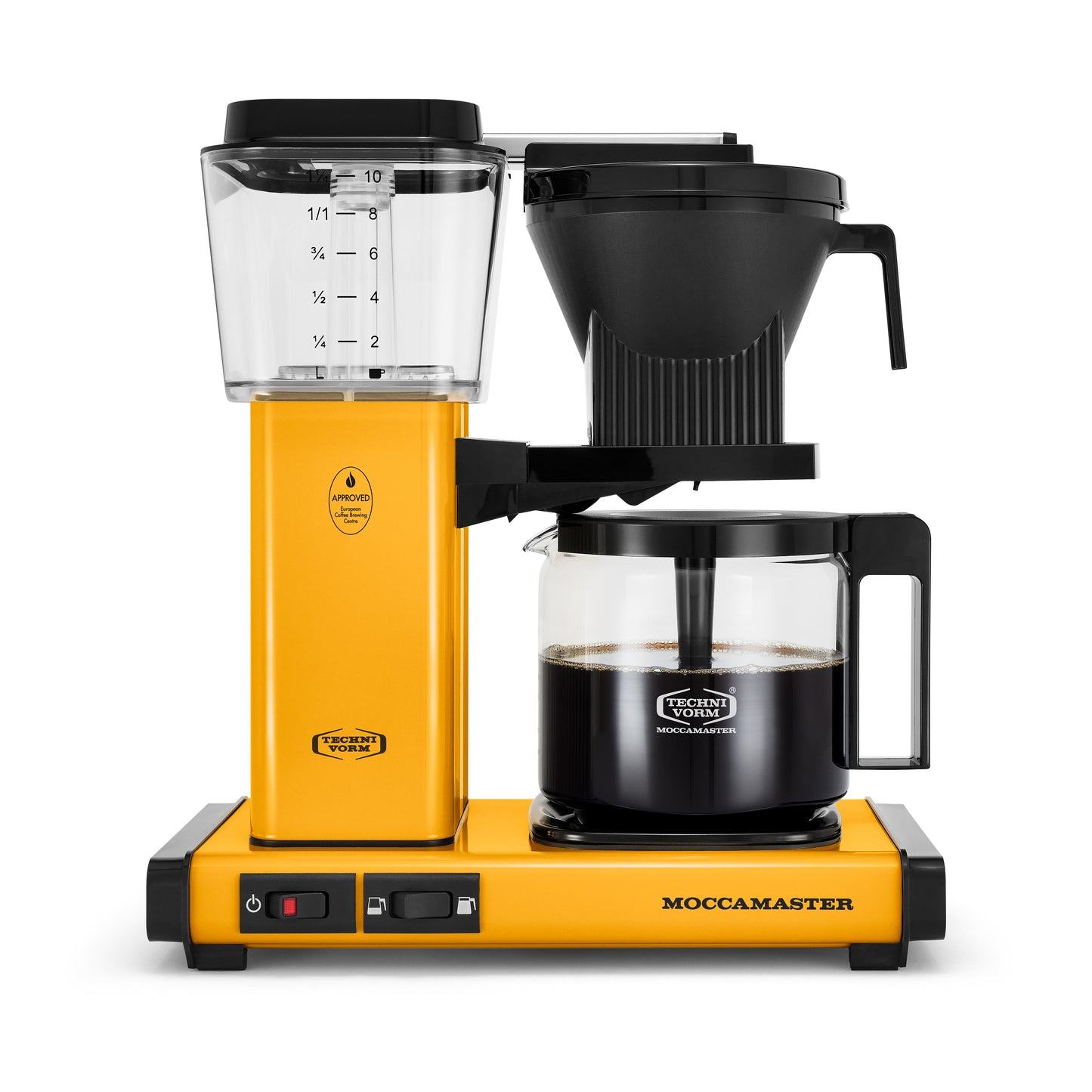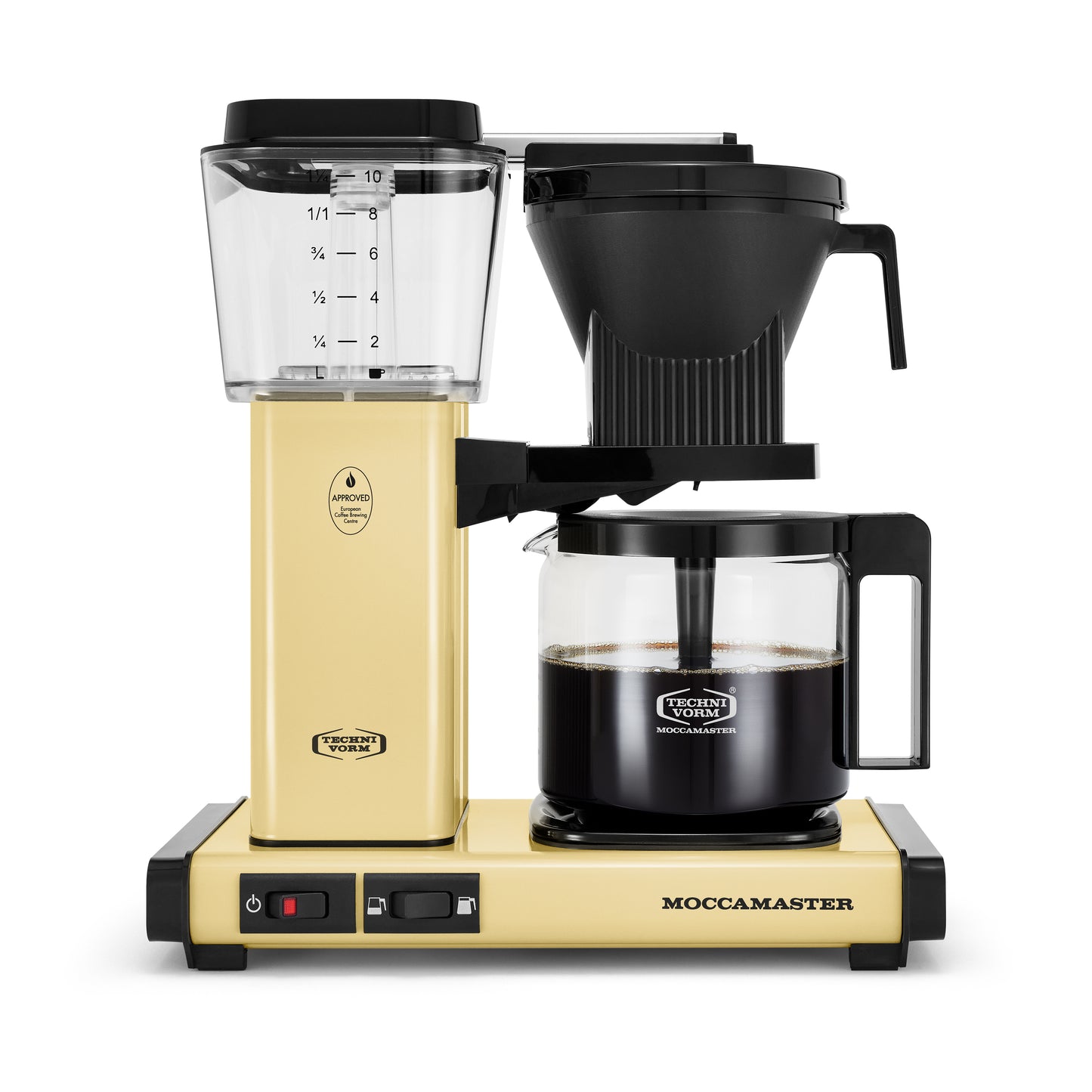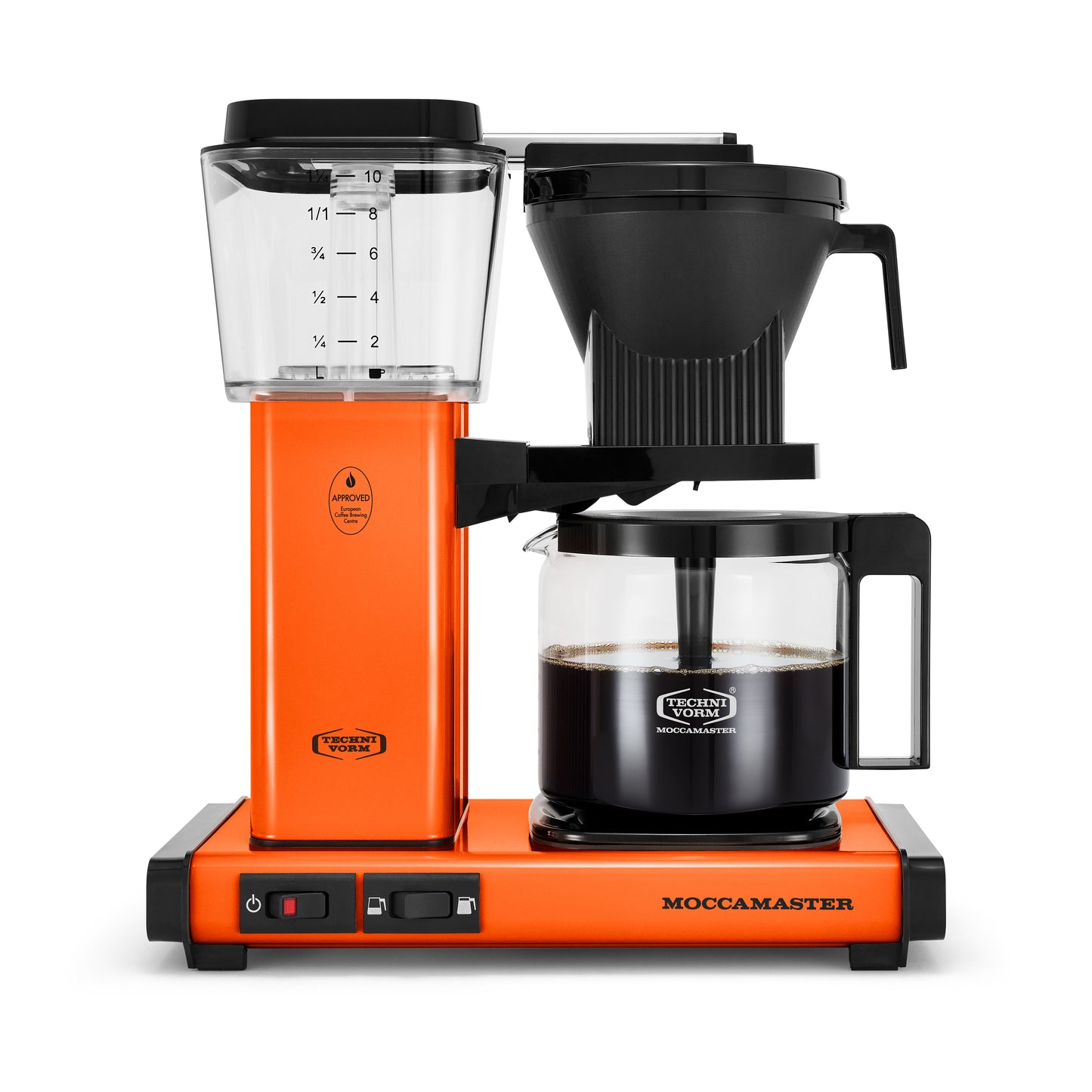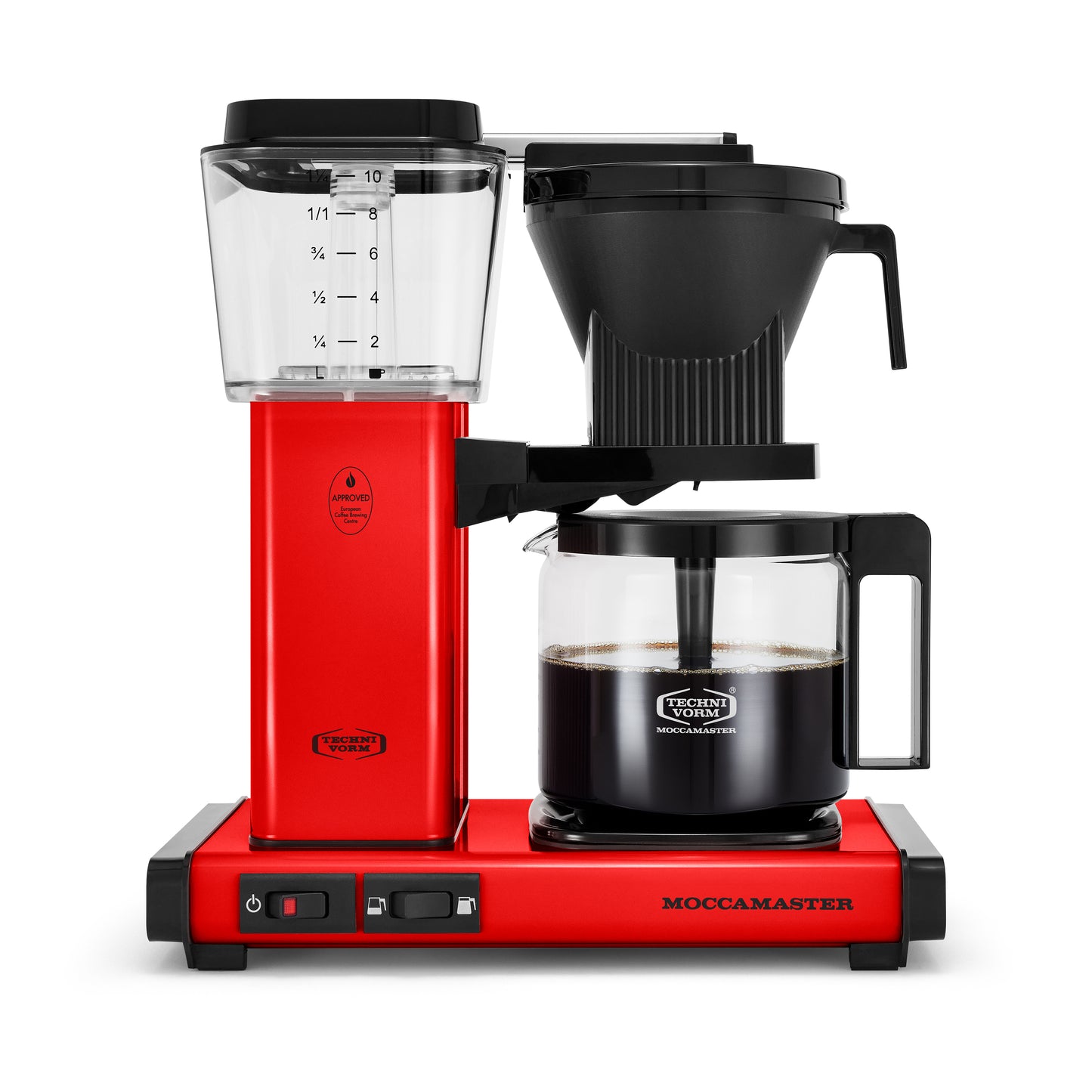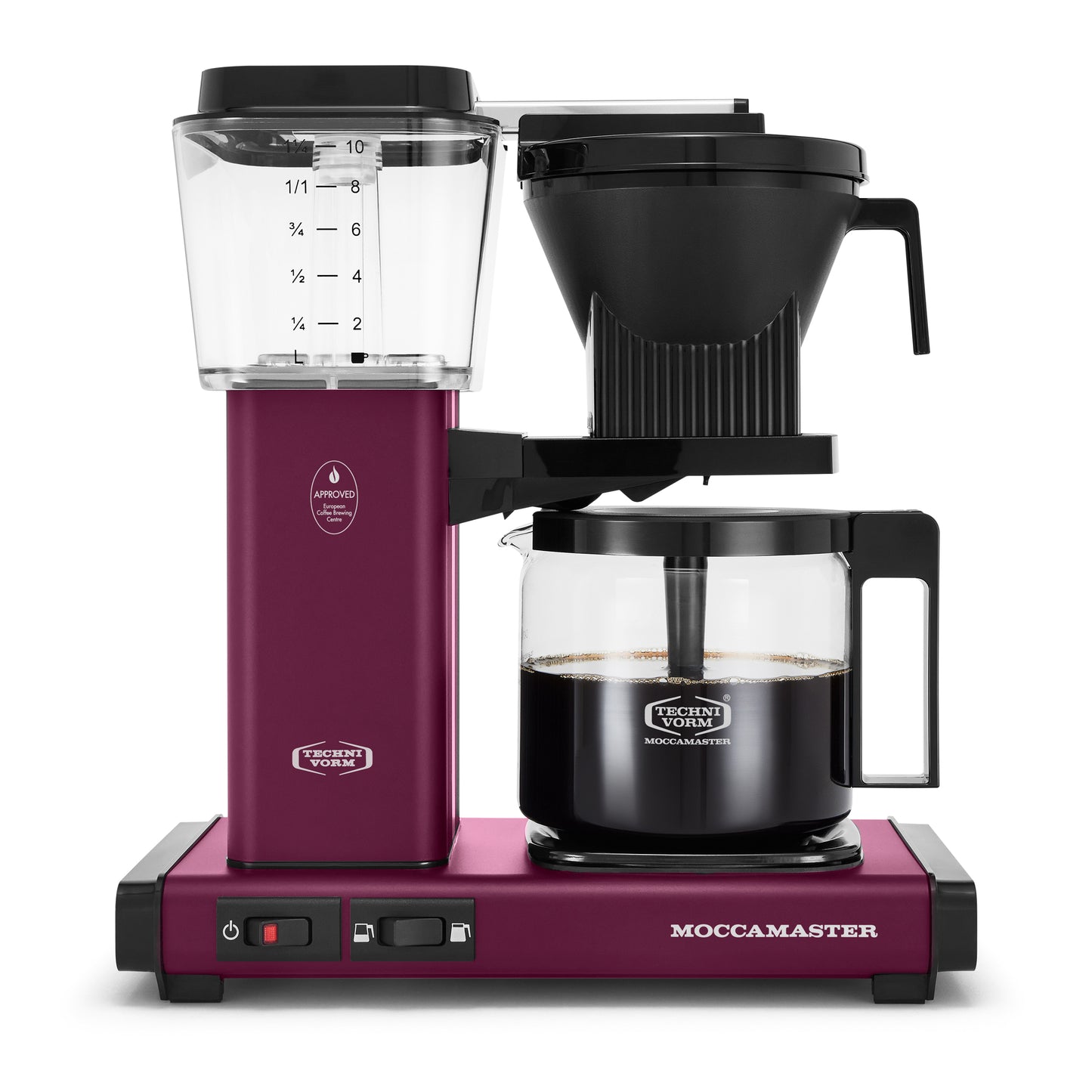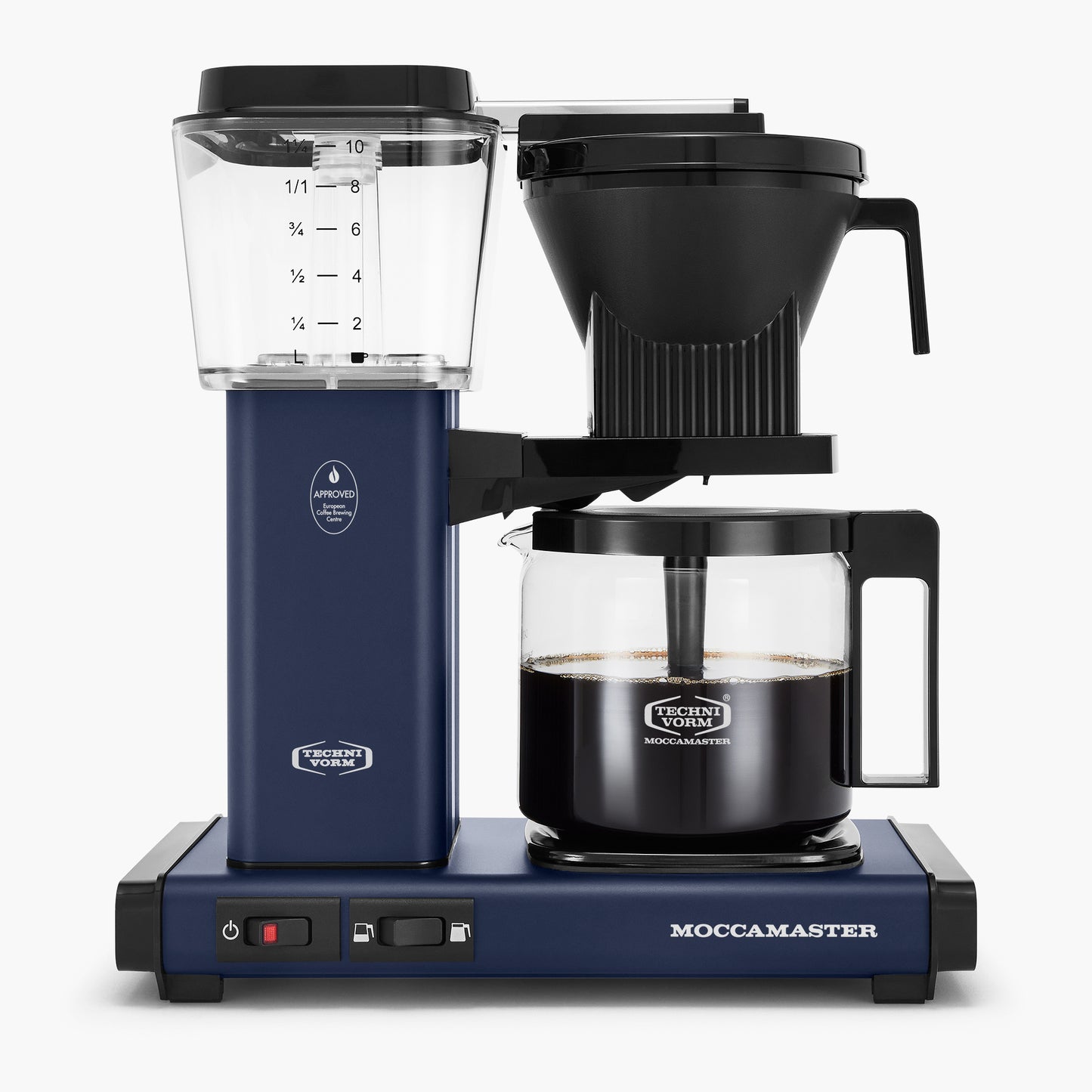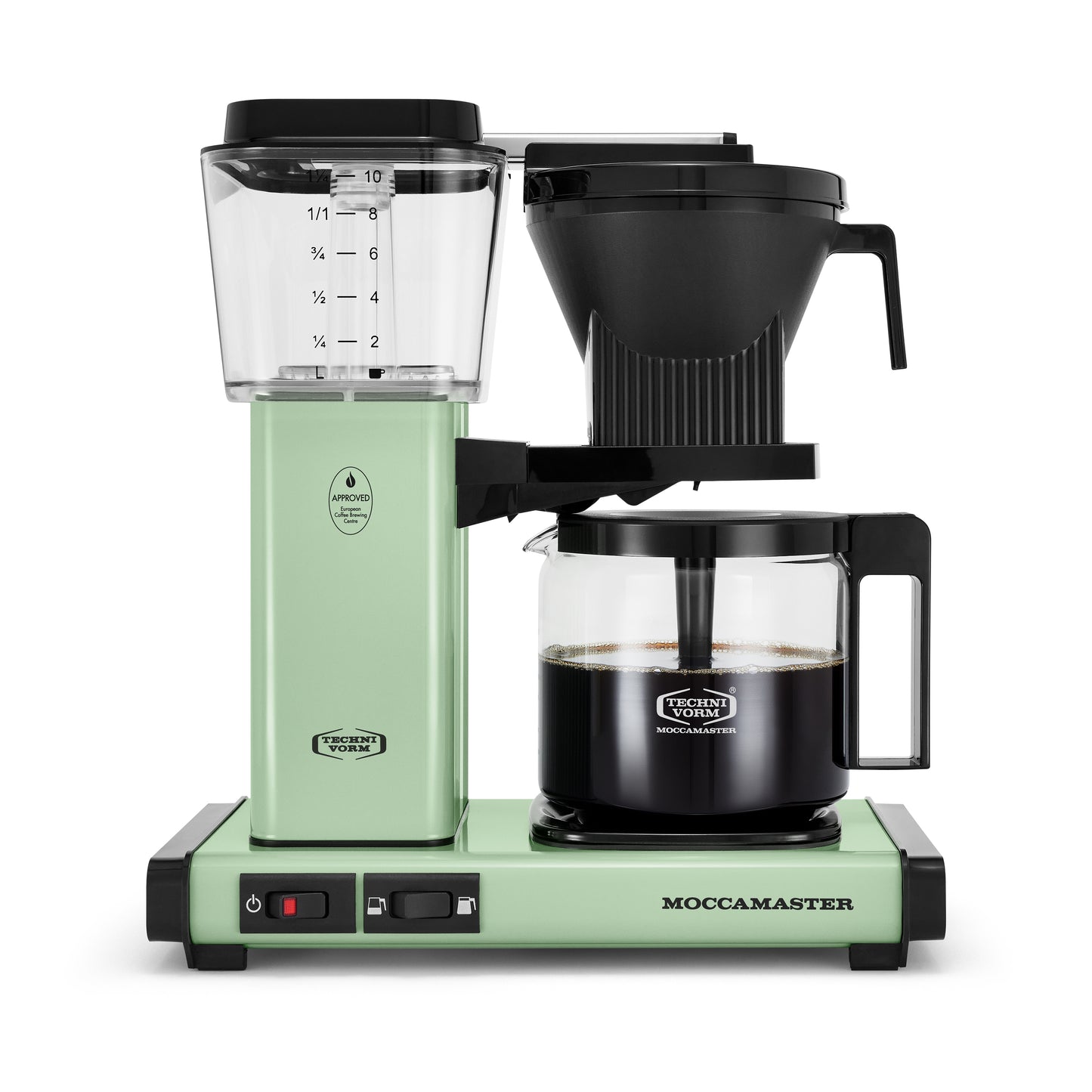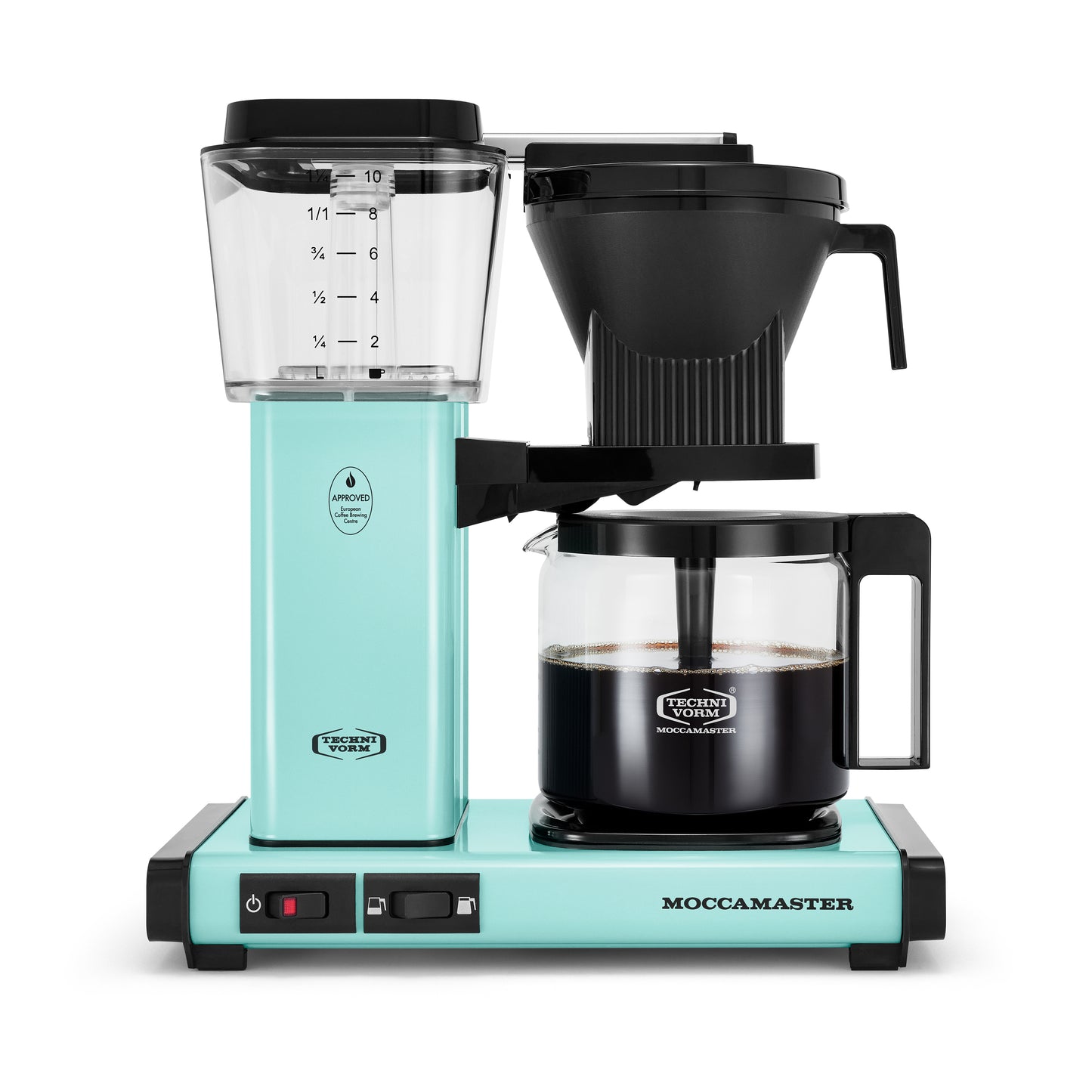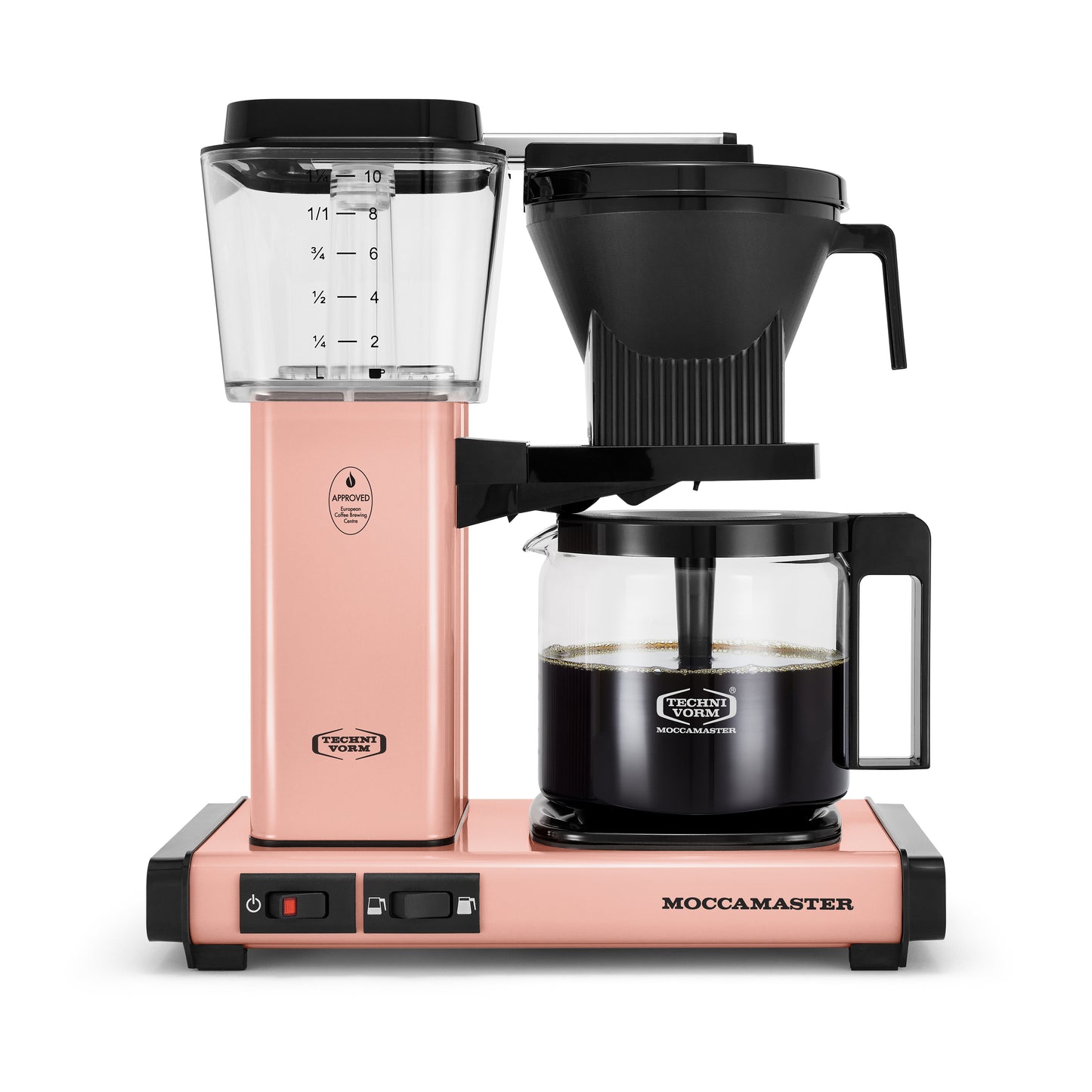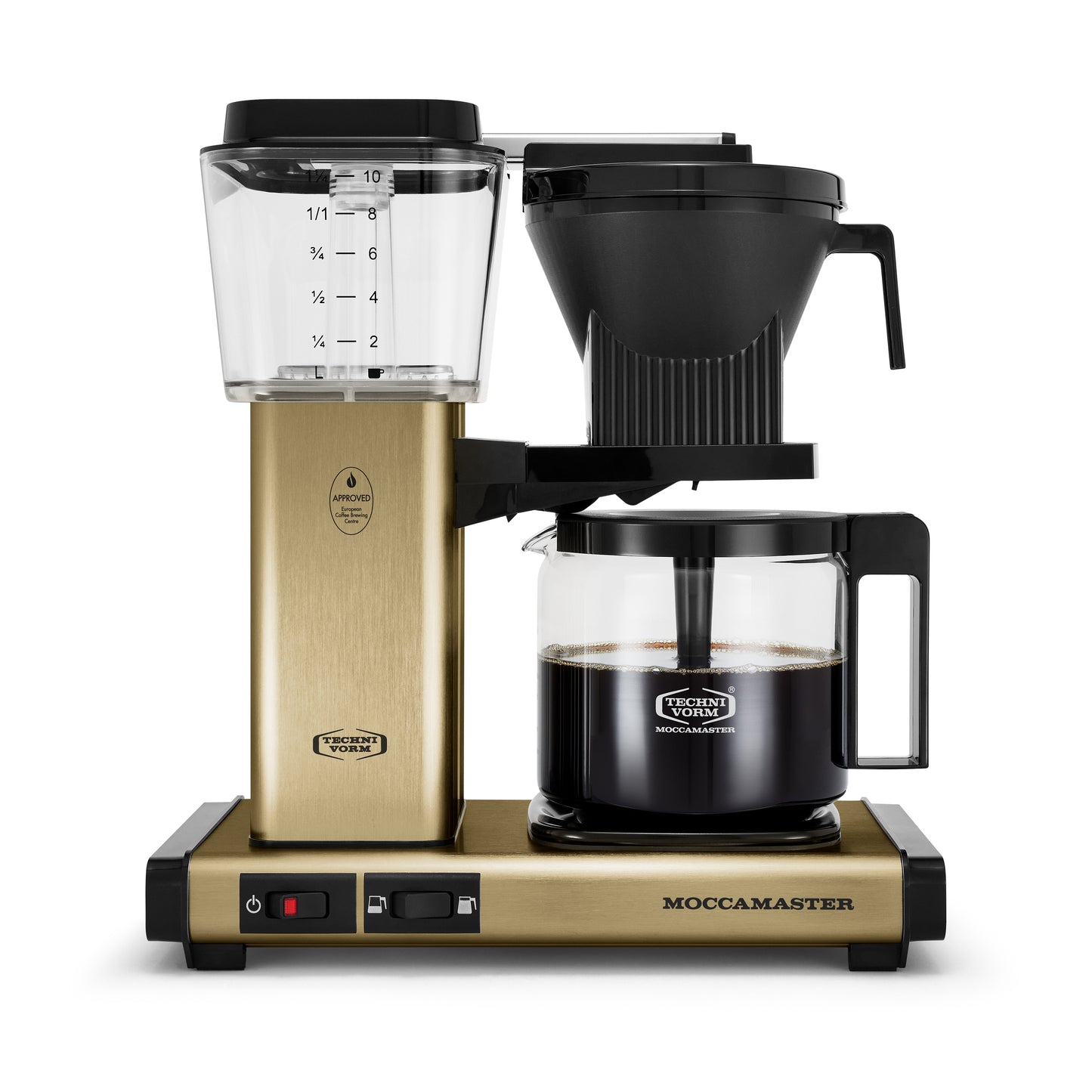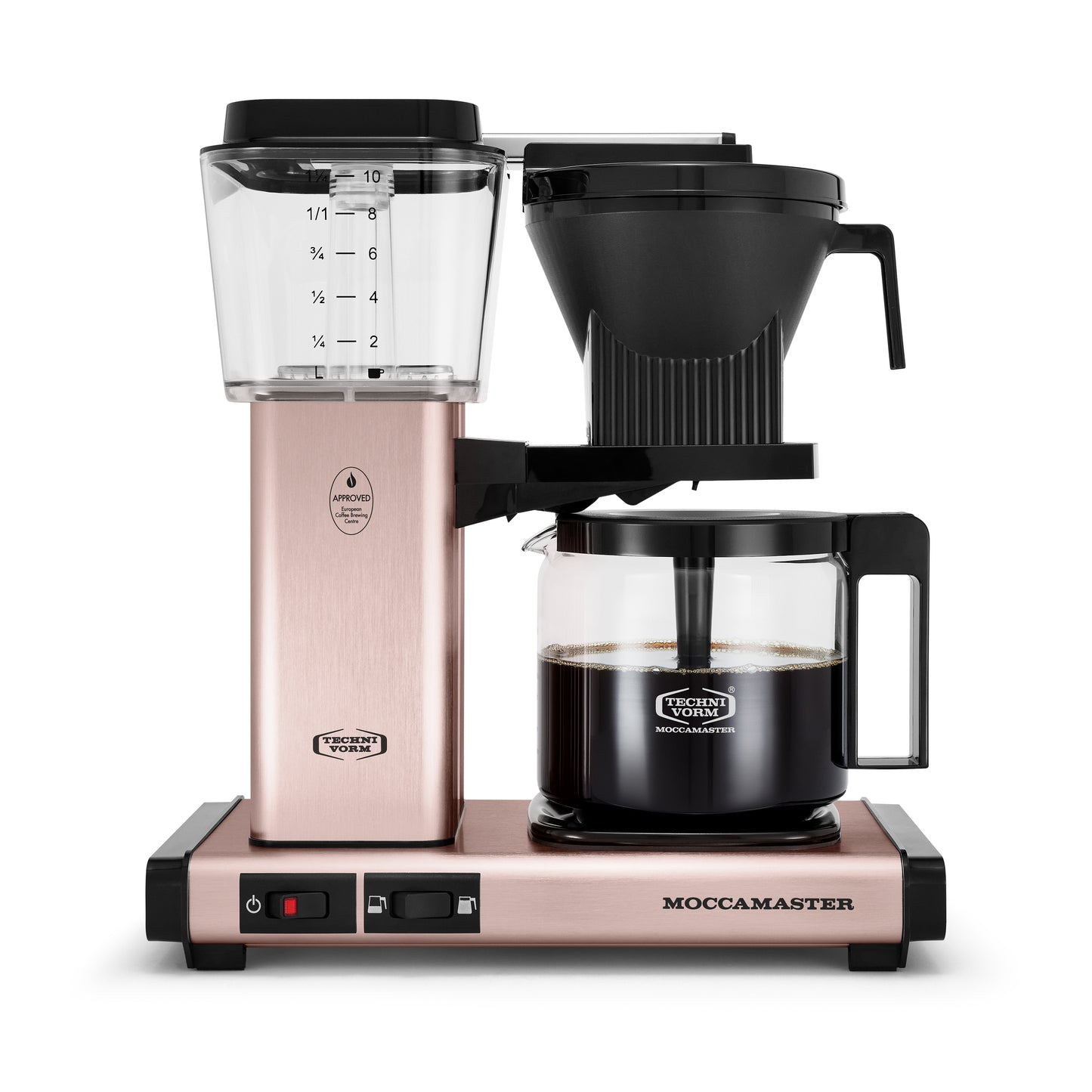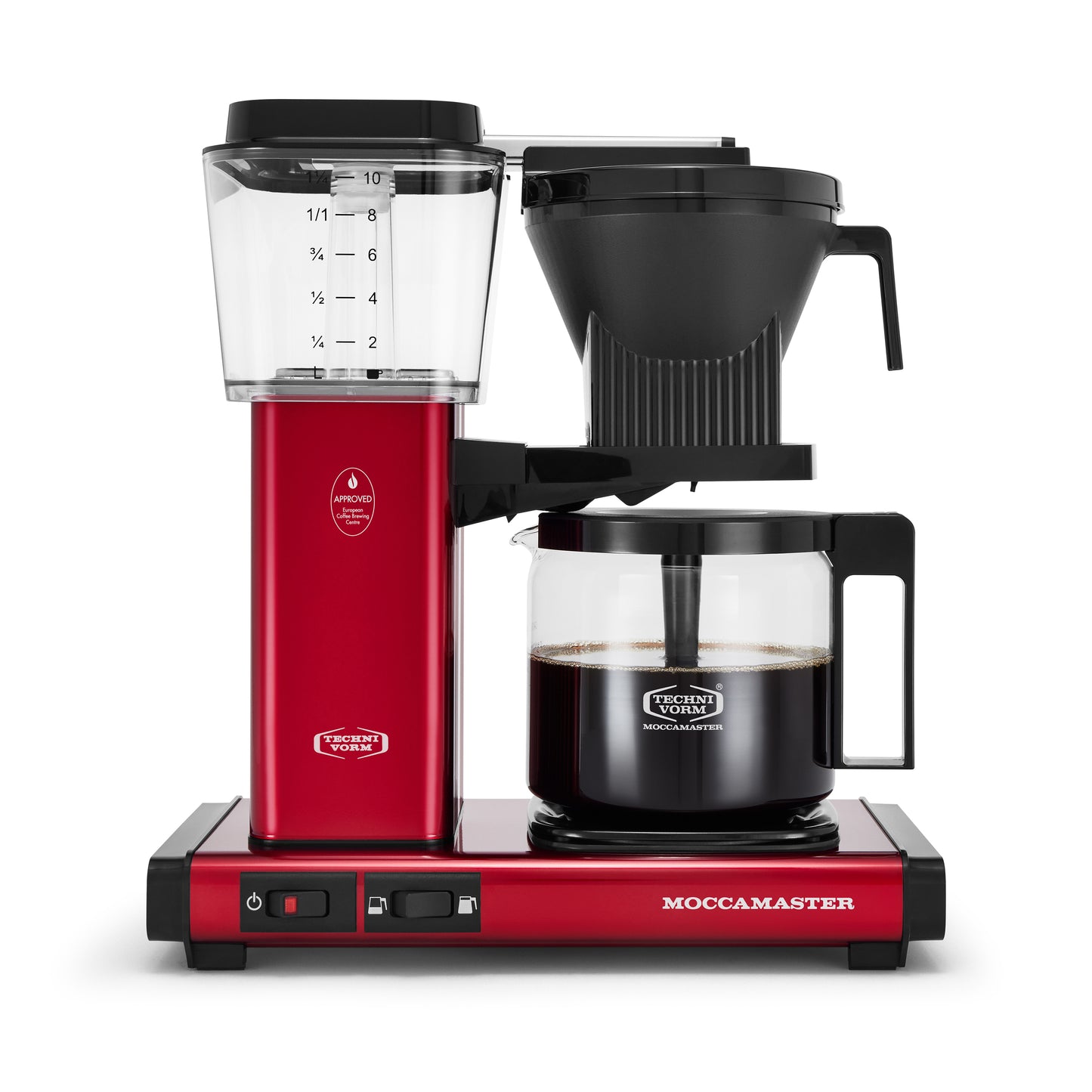 Moccamaster KBGV Select
Since 1968, Moccamaster coffee brewers have established the
worldwide standard for brewing coffee at home. Crafted to draw out the utmost
flavor from your coffee grounds in approximately 4-6 minutes, Moccamaster
coffee delivers a comparable experience to the meticulous manual brewing process
or the coffee served in cafés.
Moccamaster's commitment to durability is evident in their
coffee brewers' construction, with premium materials, a 5-year warranty, and
ample replacement parts. With conscientious upkeep and regular maintenance, the
Moccamaster coffee brewer should be the final one you'll ever have to purchase.
Moccamaster KBGV Select Features
Fast Brewing

The Moccamaster KBGV can make a half (20oz) or full (40oz) carafe in 4-6 minutes.

Consistent Temperature

The Moccamaster can hold a temperature of 196 - 205°F thanks to its well-built copper brewing element.

Precise Engineering

The brewing mechanism of the Moccamaster is thoughtfully engineered to replicate both the bloom and pulsing style of manual coffee brewing.

Optimized Extraction

Moccamaster leverages a cone shaped brew basket (like V60), which helps maximize the coffee's full complexity, from flavor to aroma.

Independent Hotplate

The hotplate keeps your coffee warm with temperatures ranging from 175°F to 185°F depending on how much you brewed.

BPA Free

Every plastic component used in Moccamaster brewers is free from BPA, BPS, BPF, and phthalates.
Why Customers Love The Moccamaster
Easy to use: "After conducting extensive research for a coffee maker, I invested considerable time comparing various options. Although I initially tried a couple of lower-priced alternatives, they failed to meet my expectations. However, I eventually decided to purchase this particular model and couldn't be happier. Its straightforward operation and effortless cleaning process have been a delight. It consistently brews a fantastic cup of coffee without the need for unnecessary features like timers or excessive options. Overall, I am extremely satisfied with my purchase."
Value for the money: "Don't hesitate, make the purchase. This coffee machine has an impressive 5-year warranty, which is hard to find elsewhere. Unlike many trendy coffee machines with catchy names designed to last only 1-2 years before being discarded, this machine is built to stand the test of time. By investing in a durable coffee machine like this, you benefit yourself and contribute to the well-being of the environment. Treat yourself to a machine that has the potential to last for many years to come. Trust me; it's worth every penny."
Pros

Handmade in the Netherlands: The Moccamaster coffee brewers are meticulously handcrafted in the heart of the Netherlands.

Copper Components: The
Moccamaster brewers feature sturdy metal housing and utilize a copper boiling element to effectively heat the water, ensuring precise control over the water temperature for consistent brewing.

BPA Free: Every plastic component used in Moccamaster brewers is free from BPA, BPS, BPF, and phthalates.

Individually Tested: Before leaving our factory, each Moccamaster brewer undergoes meticulous individual testing to guarantee its performance and quality.

5 (Five) Year Warranty: Moccamaster's coffee brewers and grinders are designed to endure long hours of use, consistently maintaining their high quality over extended periods, spanning years or even decades. Each Moccamaster product produced comes with a 5-year warranty.

Cons

No Auto-on Feature: The Moccamaster does not have an auto-on functionality which is a big drawback for many consumers. A $12.00 smart plug can be a cheap solution though not entirely ideal.

Lightweight: Coming in at just 6.25 pounds, the brewer's externals are not higher end chrome or metals, which some expect at this price point.
Moccamaster Model Comparison
| | | | |
| --- | --- | --- | --- |
| Brew Basket Style | Automatic drip-stop when carafe is removed | Manually adjustable brew basket with three settings | No drip-stop |
| Hotplate Control | the selector switch adjusts hotplate temperature between 175°F - 185°F; cooler for the half carafe setting, warmer for the full carafe setting | The hi-lo hotplate switch allows you to control your holding temperature within the range of 175°F - 185°F | No hotplate |
| Auto-Off? | Power switch and hotplate automatically shut off after 100 minutes | Power switch and hotplate automatically shut off after 100 minutes | Power automatically shuts off once the water reservoir is empty |
| Brewing Capacity | 1.25L / 40 oz / 10 Cups | 1.25L / 40 oz / 10 Cups | 0.33L / 10 oz / 1.25 Cups |
| Optimized to brew a half carafe? | The selector switch allows you to brew a half-carafe or full-carafe to industry-approved standards | The manual-adjust brew basket allows you to manually select a half-carafe or full-carafe | Optimized to brew 10 oz. |
| Brew Time | 4-6 minutes | 4-6 minutes | 4 minutes |
| Available Colors | Polished Silver, Matte Black, Off-White, Stone Grey, Rose Gold, Midnight Blue, Turquoise, Pistachio, Candy Apple Red, Yellow Pepper, Orange, Black, Red, Brushed Brass, Pink, Merlot Red, Butter Yellow, Slate, Matte Silver | Brushed Silver | Polished Silver |
Moccamaster KBGV FAQ
How coarsely should I grind my coffee?

We recommend a medium-coarse grind, which should look like coarse sand or sea salt. If having your coffee ground, use these descriptors to ensure you get optimal coarseness. Note that most pre-ground, bagged coffee tends to be too finely ground for ideal operation.
Is there a difference between filters?

Moccamaster oxygen whitened filters are the perfect choice for clean, crisp coffee. Brown unbleached filters may leave a "cardboard" taste in your coffee, while permanent wire-mesh type filters can quickly clog with coffee oils. A clogged filter may result in your brew basket overflowing or steeping the coffee too long, potentially resulting in over-extracted bitter-tasting coffee.
What kind of water should I use?

If it tastes good to drink, it will make good coffee. We recommend fresh tap, filtered, or bottled water. We do not recommend using reverse osmosis filtered water or distilled water, as it can damage the brewer's boiling element.

In reverse osmosis water and distilled water, all minerals are removed, and the water's PH becomes slightly acidic. The water will leach minerals out of the copper boiling element to return to a neutral PH, eventually damaging the copper element permanently. Because we build Moccamaster coffee brewers to last for a long time, using reverse osmosis or distilled water could significantly reduce the brewer's life.
What is descaling, and how often should I do it?

Over time, minerals from water accumulate inside the Moccamaster's boiling element, forming scale. This buildup can slow and eventually stop the flow of water. It also can affect the brewing temperature and saturation time. If not descaled regularly, the brewer can become permanently damaged. Descaling products break down the mineral buildup inside your brewer, ensuring consistent brewer functionality and great coffee.

Descale your brewer every 100 cycles, or a minimum of every three months. An excellent way to remember is by descaling after you finish a box of 100-count filters.
What is the difference between the KBGV and KB models?

The KB does not have the half and full carafe switch that the KBGV has. The KB has a manual adjust brew basket so you can control how the coffee steeps in the brew basket if you wanted.

What occurs if an excessive amount of water is placed in the reservoir? For instance, if you intend to brew 20oz but inadvertently fill it to 25oz or 30oz?

Unless the power is turned off, the brewing process will accommodate the exact quantity of water that has been added to the reservoir.
What size cone filter does the Moccamaster KBGV use?

Any standard #4 filter. We recommend an unbleached, white, paper filter; but you can use any #4 paper filter, or permanent filter in your Moccamaster coffee maker.

Is the Moccamaster KGBV 120v?

All Moccamaster coffee makers sold in the United States and Canada are 120V.
About Moccamaster
Since 1968, the Technivorm factory in Amerongen, The Netherlands, has upheld the tradition of individually assembling and inspecting each Moccamaster by hand, carrying forward the legacy of our inaugural products. Our factory caters to customers worldwide, ensuring their satisfaction.
The founder, Gerard Clement Smit, firmly believed that establishing a culture of respect and fostering a sense of community within the factory would infuse every Moccamaster with the skill, devotion, and enthusiasm of the individuals involved in its production. We deeply value the significance of handmade excellence and strive to cultivate a work environment that promotes dignity and pride.
Furthermore, our Technivorm CEO, who has been an integral part of our company since 1964, personally engages with employees by walking the factory floor daily. This practice nurtures a strong relationship with each member of our team. The renowned quality standard associated with the Moccamaster name reflects the immense pride our craftsmen take in their respective roles.
Resources
Warranty Information

What it Covers: Our coffee brewers are built to last a lifetime. Moccamaster USA will repair your brewer even after the 5-year warranty period has ended, for a minimal fee (usually about $59). Our corporate repair facility is located in Portland, Oregon, and our technicians provide quick, thorough service.

Length:

Contact: info.us@moccamaster.com

User Manual: Moccamaster KBGV Manual

Care and Maintenance

Descale your brewer every 100 cycles, or a minimum of every three months. An excellent way to remember is by descaling after you finish a box of 100-count filters. While descaler will remove limescale buildup on the brewer's boiling element, cleaner will remove the buildup of coffee oils and organic materials. You may clean the brewer as frequently as you would like.