Coffee Bros.
Rocket Espresso R58 Cinquantotto | PID Control | Dual Boiler | 58mm E61 Group Head
Regular price
$3,300.00
Sale price
$3,100.00
Unit price
per
Sale
Sold out
R58 Cinquantotto Espresso Machine
The Rocket Espresso R58 Cinquantotto seamlessly combines traditional Italian espresso components with modern technology to create exceptional coffee in the convenience of your own home.
Features
Dual boiler

Touchscreen PID

Auto-On
Shot Timer
Plumbable
Boiler and group pressure gauges
Large 2.5-liter water reservoir
Low water sensor
58mm E61 group
Built by hand in Italy
Share
Rocket Espresso R58 Cinquantotto
The Rocket Espresso R58 Cinquantotto is a perfect blend of traditional Italian espresso elements with modern technological features, ensuring top-quality coffee in the comfort of your own kitchen. This machine merges classic and contemporary elements seamlessly. It includes standard professional espresso essentials like an independent boiler for espresso making and steaming, a 58mm E61 group, and a water line-ready rotary pump, along with modern touches such as a touchscreen PID and a low-profile shot timer.
The updated PID controller offers a vivid color display with simple access to boiler temperatures and automatic on programming, making it easy to prepare coffee anytime. The stainless-steel case also boasts modern legs and a revamped cup rail, complementing the iconic design. The R58 Cinquantotto's magnificent handmade design and superior components guarantee it will be a focal point of your kitchen or bar for many years to come.
R58 Cinquantotto Features:
Digital PID Control

E61 Group Head

Built by Hand

Brass Components

304 Stainless Steel

Dual Independent Boilers
Additional Features
Auto On: With scheduled auto-on timing, your machine will be heated and ready to use every morning before you even wake up.
Plumbable: The machine's commercial-grade rotary pump provides extended durability and the possibility of water line plumbing, making it a superior choice.
Digital Shot Timer: The shot timer on the machine is compact and reflective, providing convenient visibility of your brew times without detracting from the machine's classic appearance.
58MM Portafilter: Standard size 58MM portafilter basket.
Built By Hand: Each Rocket Espresso R58 Cinquantotto is build by hand in Milan, Italy.
What are you waiting for!
"This machine's quality is truly remarkable, and its aesthetics are equally impressive. The steam wand's placement is particularly noteworthy since it is effortless to use in the most comfortable position for you, eliminating the need to adjust your position to work efficiently with the machine."
- Customer Review
Pros

Dual Boiler: Having separate boilers for brewing and steaming guarantees precise temperatures, resulting in superb espresso.

Plumbable Rotary Pump: The machine's rotary pump is of commercial quality, resulting in a longer lifespan, and it also permits the choice of connecting a water line.

Quality Build: High-quality external and internal parts to ensure a long-lasting machine that needs little maintenance.

Stable Brew head: High-performance E61 group head to ensure temperature stability for the perfect shot.

Handmade in Italy: Rocket's small team of craftsmen produces both premium domestic and commercial espresso machines, beautifully made with meticulous care and attention to detail.

3 (Three) Year Warranty: We're proud to offer three years of parts and labor support for every Rocket machine purchase.

Cons

PID Pod: Rocket Espresso R58 has an external PID system which to some takes away from the look of the machine. Though it is removable, it leaves behind a mounting point.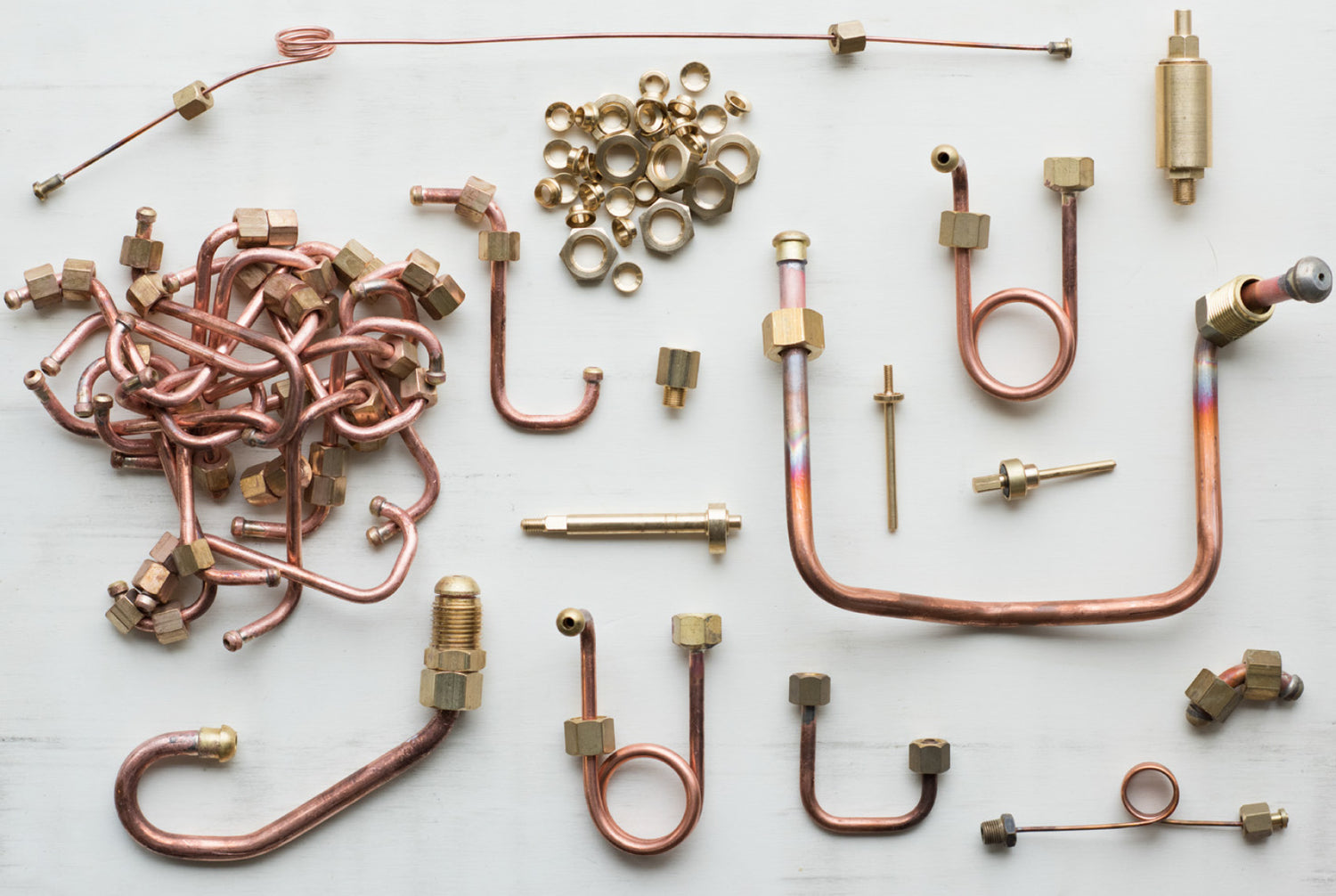 Quality Materials Meant To Last
Rocket Espresso machines are made by hand in Italy; built using the finest components like 304 Stainless Steel external body and commercial grade internal brass components.
Why Choose a Rocket Espresso Machine?
What really sets the Rocket Espresso R58 Cinquantotto from other models in a similar price range is its build quality, external and programmable PID control, and dual-boiler rotary pump.
Additionally, the 304 Stainless Steel body, internal commercial-grade Brass Components, and Brass/Copper boiler material are what sets it apart.
What's Included?
Aluminum Tamper
External PID Controller
Polishing Cloth
Brew Head Brush
Starter Cleaner Chemical
Single + Dual Spout Portafilter
14g + 7g basket
Blind Basket for cleaning
R58 Cinquantotto FAQ
How long does the R58 Cinquantotto take to warm up?

It takes about ~20 minutes to warm up but the auto on feature can help with the process!
Can the R58 Cinquantotto pre-infuse without being plumbed?

This isn't a simple yes or no question. All E61 groups necessitate plumbing to pre-infuse at a pressure of 2-3 BAR. However, if you open the valve halfway while on reservoir, all Rockets will wet the grounds with water from the boiler. Thus, technically, it does not pre-infuse at the pressure you would get while plumbed when on the reservoir, but it does wet the grounds. "Pre-wet" may be a more accurate term for its behavior on the reservoir, but other manufacturers use that language officially, so we do not include it in the listing.
What are the dimensions of the R58 Cinquantotto?

Width 12.25 inches x Depth 18 inches x Height 17 inches
Does the R58 Cinquantotto have a BPA free reservoir?

Yes, the reservoir on the Rocket Espresso R58 Cinquantotto is BPA free.
Does the Rocket Espresso R58 Cinquantotto display both Fahrenheit and Celsius?

Yes, you can change the PID to display either Fahrenheit or Celsius
Can the PID be mounted on the right or left side of the machine?

The PID mounting point and cables are on the left side of the machine.
Rocket Espresso Questions
How long are Rocket Espresso machines expected to last with proper use and care?

Prosumer-class espresso machines, such as those made with heavy-duty materials like stainless steel, copper, and brass, are known for their durability and long lifespan. Rocket Espresso machines can last for 15+ years
if properly maintained and serviced according to the owner's manual.

However, many people may not reach the full potential of the machine's lifespan due to the tendency to upgrade or replace it before it reaches its "expiration
date." It's worth noting that commercial-class Italian machines from the 60s and 70s are still in use today after being restored to like-new condition.

Rocket Espresso machines are made in small factories in Italy, mostly by hand, and are built to last as long as proper care and maintenance are maintained.
What is an Espresso PID Controller?

Temperature stability is crucial for brewing coffee, and different brew methods and roasts require different temperatures.

The Rocket Espresso Giotto Type V features a PID controller, short for Proportional-Integral Derivative, which helps to ensure temperature stability in the espresso machine. These controllers use the PID algorithm to determine the best way to control the temperature in the machine and are more accurate than traditional thermostat-based espresso machines. They also allow you to directly control the temperature of the machine and are usually visible on the machine with control buttons to increase or decrease the brewing temperature. This feature is particularly useful for home baristas who like to experiment with different roasts and temperatures.
Do you need a PID for your espresso machine?

A PID temperature controller is not a necessary component for an espresso machine to operate, but it does provide an added level of precision and consistency in temperature control for baristas.
What is the difference between the Giotto Type V and the Appartamento?

There are some key differences when comparing the Rocket Espresso Appartamento to the Giotto Type V.

Pressure Guages:

One of the main differences is that the Type V has both brew and steam pressure gauges, while the Appartamento does not. Having a brew gauge allows you to see the bar count during extraction, which can help you understand what you're doing right and wrong, and adjust your grind, dosage, and tamp pressure as needed.

PID Controller:

The Type V also has PID temperature control, which allows you to control the temperature in the boiler with the touch of a button, while the Appartamento does not. Additionally, the Type V's boiler is insulated, which makes the machine quieter, provides better thermal stability, and protects the boiler. The Appartamento's boiler is not insulated, but Rocket Espresso can provide you with a recommendation on how to manually insulate it.

Shot Timer:

Other differences include the Type V having a shot timer and the Appartamento does not.

Which machine is right for you?

Consider how much control you want over the making of your drinks, and whether you want extra room to experiment or customize. Experienced baristas and aficionados may appreciate the advanced features such as the PID controller and combination of group and pressure gauges on the Giotto Type V, while beginners or those looking for something more basic may find the Appartamento to be sufficient. Remember to also take the budget into account when making your final decision. The Giotto Type V is the more advanced machine, but ultimately, it's important to choose the machine that fits your specific needs, budget, and preferences.
What type of water should be used in your espresso machine?

To minimize scale buildup and ensure a good taste, it's best to use filtered or bottled water in your espresso machine. However, using RO (reverse osmosis) or distilled water is not recommended, as these types of water lack the necessary minerals for a delicious shot and may cause problems with the machine's water sensor.
Where are Rocket Espresso Machines manufactured?

All Rocket espresso machines, including the Appartamento, Giotto Type V, and R58 are hand-built in Italy!
How do you descale your Rocket Espresso machine?

Descaling is an important part of maintaining your Rocket Espresso machine, but it should be done with caution. If not done properly, regular descaling can lead to damage of the group head and void your warranty. To avoid this, it is recommended to clean and maintain your machine regularly, and have it descaled by a professional technician. This way, you can ensure that the descaling process will not cause any damage to the machine.
What outlet does the Rocket Espresso R58 Cinquantotto use?

The Rocket Espresso R58 Cinquantotto uses a standard 110V plug.
What kind of pump does the Rocket Espresso R58 Cinquantotto V use?
What makes the E61 group head so special?

The E-61 group is a feature that provides consistency and enhances the flavor of the espresso. It circulates hot water through the boiler and group head continuously, maintaining the appropriate brew temperature range at the group head. Additionally, its automatic pre-infusion function saturates the coffee in the group head when you start extraction, leading to a more evenly extracted and refined flavor profile. The best part is that this feature operates on its own, so it does not require any special actions from the user to benefit from its performance. This is the result of good design.
What size baskets come with the Rocket Espresso R58 Cinquantotto

The Rocket Espresso R58 Cinquantotto machine comes equipped with a single spout and double spout portafilter that includes both 14g and 7g baskets. However, for an improved performance, it is recommended to upgrade to a VST 18g or 20g basket.
Can I leave my Rocket Espresso machine on all day?

While some people leave their Rocket Espresso machines on all day, it's not recommended. To prolong the lifespan of the machine, it's best to turn it on in the morning and turn it off when no longer in use to minimize the internal components exposure to heat over time.
Resources
Warranty Information

What it Covers: Rocket Espresso home machines and grinders

Length:

Espresso Machines: 3 years parts and labor
Grinders: 1 year parts and labor

Contact: sales@rocket-espressousa.com

User Manual: Rocket Espresso User Manual

Care and Maintenance

Brush the brew head filter daily.
Perform a weekly backflush.
Soap out the drip tray and water reservoir weekly.
About Rocket Espresso
Rocket Espresso produces the finest espresso machines in the tradition of 'Fatto a Mano' translated to, 'made by hand'.
Rocket Espresso's small team of craftsmen produce both premium domestic and commercial espresso machines, beautifully made with meticulous care and attention to detail.
More importantly, Rocket Espresso machines will deliver the finest espresso in the cup, time after time.
A partnership between New Zealander Andrew Meo and Italian Daniele Berenbruch who brought philosophies from opposing sides of the world into their Milan factory to make the best espresso machines, each model designed to meet the needs of today's most exacting espresso customer.