Espresso Roast Coffee
Regular price
Sale price
$17.99
Unit price
per
Sale
Sold out
We have more than 50 in stock
Level: Medium | Agtron: # 62 - 69
Coffee Details

Taste Notes: Strawberry, sugar cane, and vanilla

Process: Natural/Washed

Roast Profile: Medium

Agtron: 64.8 (Medium)

Producer: Kayon Mountain Farm (Ethiopia), various smallholder farmers (Colombia)

Origin: Shakiso, East Guji & Huila or Nariño, Colombia

Varietal: Ethiopian Heirloom, Castillo, Caturra

Altitude: 1,860 - 2,300 masl
Roast Days & Orders

Next Roast Dates: (all coffee sent will be within five days of roast date)

Roasts weekly every Saturday

Orders: All orders placed will be shipped the next day (excluding Sunday) if there is inventory; otherwise, your order will go out on our next roast day each Saturday.
Description

Vibrant and Smooth: This espresso will drive your taste buds wild. We roasted this coffee to highlight all of the natural sugars and sweetness. Makes for one great latte!

Arabica Coffee: Our blends are made from 100% Arabica coffee beans.

Flavor First:  We source all our coffee to achieve specific taste notes. Our Espresso Roasted Coffee tastes of Strawberry, Sugar Cane, and Vanilla with a vibrant and round body.

Freshly Roasted:  We roast our coffee immediately after an order to ensure we lock in flavors and maximize freshness.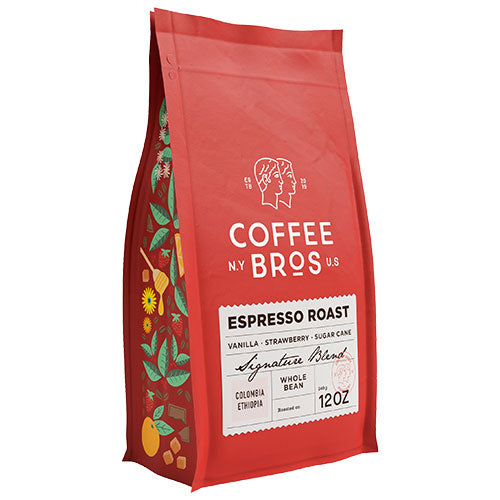 Blend Details
Flavor Profile

Strawberry, sugar cane, and vanilla

Origin

Shara, Yirgacheffe Ethiopia & Huila or Nariño, Colombia

Varietal

Ethiopian Heirloom, Castillo, Caturra

Altitude

Mixed (1,860 - 2,300 masl)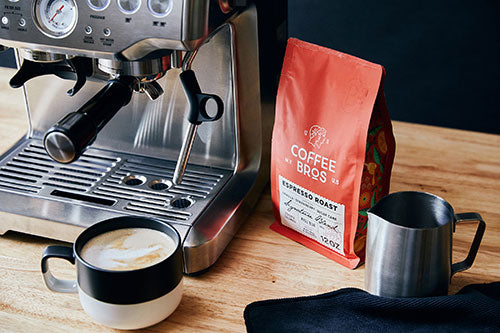 About Our Espresso Roast
We spent special care in roasting this Espresso Roast to highlight the natural sugars and sweetness from this Arabica, whole bean coffee. Our Espresso Roast Coffee beans are not the charred, over-roasted espresso roast. We have managed to perfectly roast this coffee to bring out incredible taste notes of juice Strawberry, Sugar Cane, and Vanilla.
Ethiopia
The Kayon Mountain Coffee Farm is 500 hectares with about 300 hectares planted in coffee and has been owned and operated by Ismael Hassen Aredo and his family since 2012. It is located 510 kilometers south of Addis Ababa, and the property crosses the border of two villages—Taro and Sewana—located in the Oromia region, in the Guji zone of the Shakiso district of Ethiopia.
Ismael oversees a staff of 25 permanent full-time and 300 seasonal employees, and the farm management offers free transportation services as well as financial support for building schools and administration buildings for the community. The farm competes with a nearby mining village for seasonal workers, so Ismael and his family tend to pay higher wages to their pickers in order to incentivize them returning year after year.
Colombia
Our coffee from Colombia comes from various smallholder farmers in the Huila region.
We entrust our Colombia sourcing to Cafe Imports, who have had boots on the ground (and spoons in the cup) here since our earliest days. Cafe Imports sources strong, versatile workhorse coffees from the regions of Cauca, Huila, Nariño, and Tolima and discover and develop micro-lots from all over the country.
Looking For Something Darker?
Dark Espresso Roast Coffee
Regular price
Sale price
$17.99
Unit price
per
Sale
Sold out
Share
View full details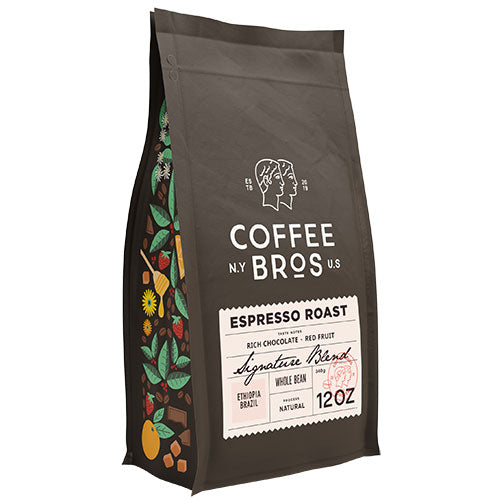 Espresso 101
How to make a single shot of espresso?

Using a single basket, finely grind 7 - 9 grams of coffee, distribute the grounds evenly, tamp with 30lbs of pressure, then extract 14 - 18 grams of espresso at a 1:2 ratio within 25 – 30 seconds at 201°F.
How to make a double shot of espresso?
What are espresso brew ratios?

Espresso brew ratios recommend the amount of coffee grounds used in the portafilter versus the final extraction yield in your cup.

For example, your double espresso calls for a 1:2 ratio, meaning that for every 1 gram of ground coffee in your portafilter, you aim for 2 grams of espresso yield in your cup. A standard double espresso recipe would call for 19 grams of finely ground coffee in your portafilter, yielding 38 grams of espresso in your cup.
What is the difference between a ristretto and a single shot of espresso?

Espresso drinks all start at a recommended brew ratio (though there is some flexibility in the numbers) which states the amount of ground coffee to the extracted espresso yield.

Traditionally, a ristretto espresso is a 1:1 ratio of coffee grounds to extracted espresso. An example of a ristretto would be using a single basket with 9 grams of coffee, yielding 9 grams of espresso. The closer the ratio is to 1:1, the more intense and heavier mouthfeel the espresso shot will be. The further the ratio is from 1:1, let's say a 1:3 ratio ( gram of coffee grounds to 3 grams of water), the higher clarity and less intense of a shot it becomes.

There are two ways to craft a single shot of espresso, but both will be at a 1:2 ratio (1 gram of coffee to 2 grams of water). The first is using a single basket, finely grinding 7 - 9 grams of coffee to yield 14 – 18 grams of espresso. The second method would be a double basket, finely grinding 19 grams of coffee and splitting the yield between two espresso cups. This second method yields two single shots of espresso and is for those who prefer the extraction from a double basket better than a single basket or those in a commercial setting.
What is the difference between a double shot and a lungo?

All espresso drinks start with a ratio of ground coffee to brewed espresso. A double shot of espresso uses a 1:2 ratio meaning that for every 1 gram of ground coffee in your portafilter, you aim for 2 grams of espresso yield in your cup. A typical double shot of espresso recipe would call 19 grams of finely ground coffee in your portafilter, yielding 38 grams of espresso within 25 – 30 seconds.

A lungo uses a 1:3 to a 1:4 ratio meaning that for every 1 gram of ground coffee, you should yield 3 – 4 grams of brewed espresso. The lungo has higher clarity and is much less intense than a ristretto or double shot. You typically find lungos in traditional Italian cafes where they will use 7 grams of coffee, yielding a 21-gram espresso shot.
How to best prepare and extract an espresso shot?

The espresso shot preparation and extraction stages include knowing your brew ratio, dosing your coffee, distributing the grounds, tamping with even and consistent pressure, and finally brewing the espresso and stopping it at the intended total brew time. You would repeat this process as part of the "dialing in" of the espresso to ensure that it hits on the intended recipe or taste notes.

Knowing your brew ratio: The brew ratio determines how much coffee grounds go into your portafilter to the total espresso yield in your cup. Standard brew ratios range from 1:1, 1:1.5, 1:2, 1:3, 1:4, and everything in between. Your brew ratio is usually determined by the type of drink you intend to make; for example, a standard ristretto espresso will follow a 1:1 brew ratio.

Dosing your coffee: Now that you have your brew ratio and drink type, you will finely grind your coffee directly into your portafilter. Let's say you are brewing a double shot espresso (1:2 ratio); you should expect the total ground coffee to equal 18 – 20 grams.

Dosing your coffee also refers to correctly choosing your grind size, as your grind size will significantly impact your extraction yield and shot time. A coffee that extracts too quickly (keeping your tamping pressure the same per shot) means you are under-extracting your espresso shot and need to grind finer. This trial and error step is called "dialing in" your espresso.

Distributing your grounds: Once the coffee is ground in your portafilter, you need to spread the coffee evenly before tamping, which helps prevent channeling (when water penetrates the coffee puck unbalanced).

A great way to evenly distribute your coffee grounds and break apart any clumps of grounds is through a WDT tool. A WDT tool will help keep your espresso shot uniform, improve channelling, and increase total extraction quality.

Tamping: After evenly distributing your coffee, it is time to tamp. Tamping is the one step that most overthink and should also be the most consistent of all the steps. As coffee ages, grind size and total brew time might change, but your tamping pressure will always remain the same.

The critical factors for the perfect tamp are keeping the portafilter level and tamping at a consistent 30lbs of pressure. Recall that channeling can significantly impact espresso extraction in the distributing your grounds step, which is why tamping should remain level and with consistent pressure.

Brewing your espresso: You made it! It is time to brew your espresso. It would have taken you longer to read these five steps than the time it takes to brew and extract an espresso shot. While brewing your shot, you monitor total brew time and weight to ensure it hits on your intended brew recipe. If your espresso brews too fast, consider altering your dosing and distribution steps. Remember, tamping should remain consistent and not be a factor that needs to be changed to adjust your brew.

Finally, the most important factor is how the coffee tastes. If your recipe calls for a 1:2 ratio and to brew within 25 seconds, yet you brew in 32 seconds, and it tastes delicious, stick to 32 seconds!
Frequently Asked Questions
What is the difference between your Espresso Roast and Dark Espresso Roast?

We now have two Espresso roast coffees, perfect for a wide range of drinks and preferred flavor profiles.

1) Bright Espresso Roast (red bag): Our medium-roasted Espresso is bright, fruit-forward, and perfect for those that want to deviate from your standard espresso profile. Our Espresso roast makes for vibrant single or double-shot Espresso and is ideal for smaller milk-based drinks. Our bright Espresso works quite well in a Moka pot, Aeropress, and even pour-over methods.

Dark Espresso Roast (black bag): Our dark-roasted Espresso is bold, with dark chocolate undertones, and is perfect for those seeking a thick and syrupy crema. We developed this blend for those who love a coffee that can easily cut through milk and works well across all milk-based drinks.
Is the roast date printed?

Yes, our roast date is printed on the bottom of each bag.
Is the coffee roasted to order?

Yes, we currently roast all orders twice a week (Tuesday and Saturday).
Is coffee seasonal like produce?

Just like produce, coffee can have multiple seasons and harvests depending on the country of origin. We source all our raw materials during the current and optimal season.
Where do you currently source your coffee from?

Brazil, Colombia, Ethiopia, Kenya, Tanzania, Costa Rica, Sumatra, Honduras, Nicaragua