Coffee Bros.
Eureka Atom 75 | Espresso Grinder | 75mm Burrs | 1400 RPMs | Short Hopper
Regular price
$1,399.00
Sale price
$1,249.00
Unit price
per
Sale
Sold out
We have 5 in stock
Sound Insulation: Similar to its smaller counterparts, the Atom 75 incorporates sound-isolating gaskets and motor mounts, ensuring exceptionally quiet operation.
75mm Flat Burrs: Featuring the identical burrs found in the esteemed Eureka Olympus and Mythos grinders, the Atom 75 delivers unparalleled grind times, setting a new standard in its class.
Timed Dosing: Enjoy the convenience of programming single- and double-shot doses, or manually grinding directly into your portafilter for added control.
Stepless Grind Adjustment: With stepless grinders, you gain access to an extensive range of grind settings, offering you nearly infinite possibilities to discover the precise consistency for your espresso.
Bottom-Burr Adjust: Eureka's innovative decision to facilitate adjustments at the bottom burr permits easy disassembly for cleaning without losing your carefully set grind configuration.
Eureka ACE System: Equipped with the Eureka ACE system, designed to reduce static and clumping, the Atom 75 ensures a more uniform distribution of the ground coffee for exceptional brewing results.
Share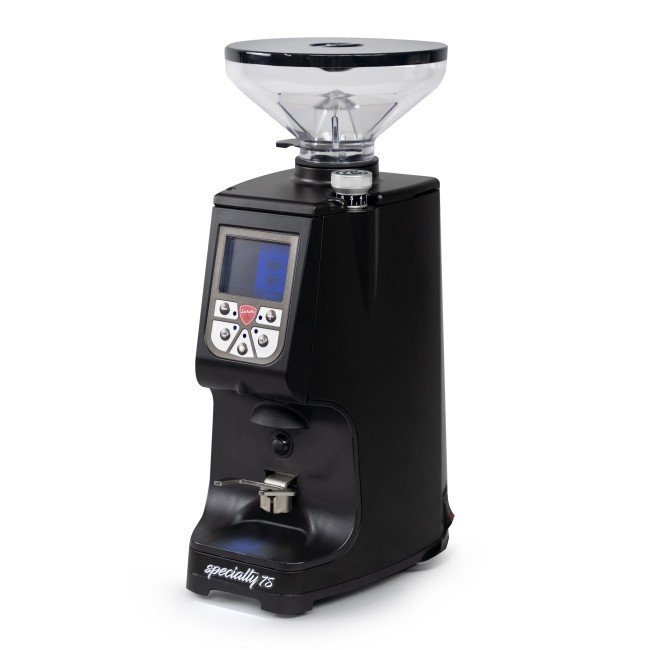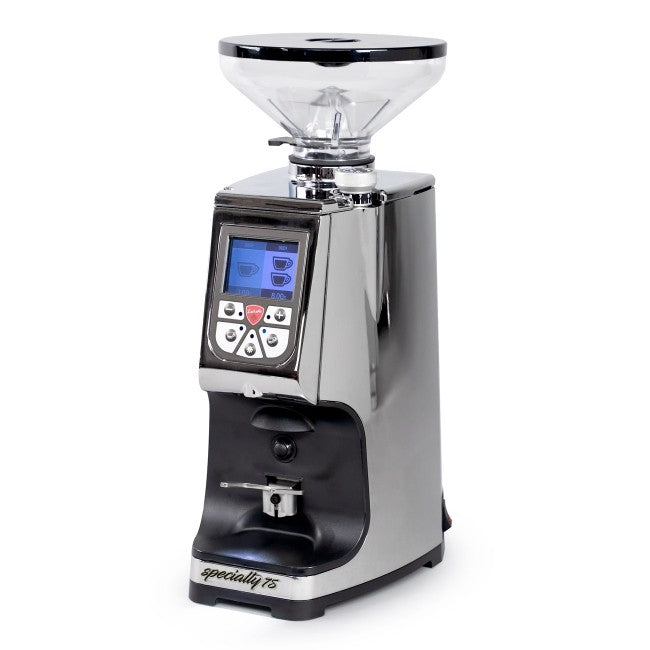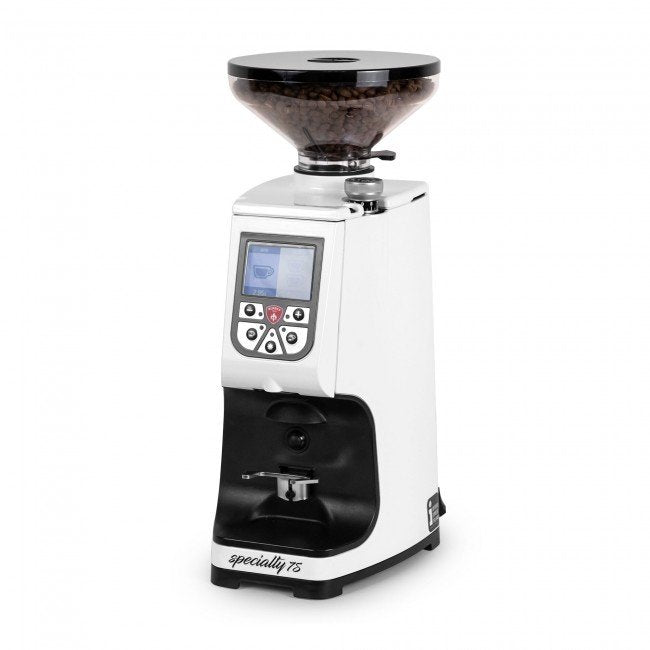 Eureka Atom 75 Espresso Grinder
Blending coffee shop quality with the convenience of a home café, the Eureka Atom 75 Espresso Grinder effortlessly combines functionality and aesthetics. Building upon the sound-insulated design of its predecessor, the original Atom, the Atom 75 takes it a step further by incorporating a larger burr set and a more powerful motor, resulting in a grinder that is both exceptionally quick and impressively quiet. This unwavering focus on grind quality positions it alongside many commercial-grade espresso grinders while offering features tailored for home baristas. Including dual programmable timers, manual grinding capability, a stepless grind adjustment, and anti-static dosing are just a few of the thoughtful details that set the Atom 75 apart from its competitors. These features are seamlessly enclosed within a sleek and compact housing, which prioritizes functionality and adds an elegant touch to your countertop café.
Atom 75 Espresso Grinder Features
Advanced Burrs

The 75mm stainless steel flat burrset for a high-quality and consistent grind. The Atom 75 also has a plethora of burr and hopper options

Stepless Grind Settings

The Eureka Atom 75 espresso grinder comes with a Stepless Micrometric Regulation System for an infinite number of grind settings

Digital Control

Adjust your grind time for single or double shot or grind manually right into your portafilter

Silent Technology

The Rocket Espresso Fausto Touch has a sound-insulated anti-vibration casing made of thick metal with rubber mounts and gaskets that greatly reduces the sound of grinding beans to a quiet whisper.

Low Retention

The absence of screws in the top burr design results in a highly polished surface for grinding, reducing the amount of coffee grind retention.

Powerful Motor

A powerful 800W motor capable of reaching 1650 RPM burr speed
Why Customers Love The Atom 75
Easy to Dial-in: "I am truly amazed by this grinder. When I bought the Breville Dual Boiler espresso machine, I was determined to invest in an NSF approved grinder. As a proud owner of my first semi-automatic espresso machine, I have plans to upgrade to a La Marzocco in the future. For anyone seeking exceptional espresso, maintaining a consistent grind is paramount. This grinder makes the dialing-in process effortless, and its aesthetics add a delightful touch to my mornings. I cannot recommend this grinder enough. If you aspire to enjoy outstanding coffee and espresso, beginning with a top-notch grinder is an absolute must."
Best Machine for the Price: "Impressive upgrade from the original Eureka Atom 60mm! The Atom 75 is the best grinder I've ever owned. It's incredibly powerful and fast, grinding 21 grams of coffee in just 3.2 seconds, compared to the original Atom's 9.8 seconds for the same amount. The removal of the hopper's impeller effectively eliminates the popcorning issue when the bean level is low. The LED light is brighter, and the control over grind time is more precise.
However, one drawback is that the grinder produces a higher-pitched sound compared to the original Atom, which can be slightly louder and more noticeable during early morning use. Additionally, I wish the portafilter holder had more angle adjustment options like the original Atom.
Despite these minor drawbacks, I wholeheartedly recommend this grinder! Just be prepared to dial in your grind by going through a pound of beans during the initial use."
Pros

75mm Advanced Burrset: The Eureka Atom 75 is equipped with 75mm hardened steel flat burrs, delivering enhanced grind quality and efficient grinding of coffee beans.

Stepless Grind Settings: With its stepless grinding system, the Eureka Atom 75 offers boundless adjustments, ensuring effortless discovery of the perfect grind size for your espresso shot.

Grind Quality for the Price: The Atom 75 line delivers exceptional grind quality for espresso at an affordable price compared to its competitors and has a plethora of burr and hopper options.

Silent Grind: The speed is impressively swift, almost negligible, and thanks to its sound-insulated design, you can have a conversation without disturbance, or savor your coffee without waking up the entire house.

1 (One) Year Warranty: We're proud to offer one year of parts and labor support for every Rocket Espresso grinders.

Cons

Large Investment: While there are several basic grinders available that can fulfill the task of home espresso grinding, the Atom 75 sets itself apart with its exceptional features, albeit at a higher price point.
Eureka Atom 75 Espresso Grinder Specs
| | | | |
| --- | --- | --- | --- |
| Model | Eureka Atom 75 | Rocket Espresso Fausto Touch | Eureka Mignon Specialita |
| Price | $1,399 | $1,250 | $649.00 |
| Best for | Espresso grinding only | Espresso grinding only | Espresso grinding only |
| Weight-based Dosing | No | No | No |
| Speed To Grind | Espresso 1.8 g/sec | Espresso 1.8 g/sec | Espresso 1.4g/sec |
| Burrs | 75mm Burrs | 65mm Burrs | 55 mm Diamond Inside Burrs |
| Bean Hopper Capacity | 48 oz (1,360 g) | 22 oz (635 g) | 10 oz (300-400 g) |
| Grounds Bin Capacity | N/A | N/A | N/A |
| Weight | 20.9lbs (9.5 kg) | 22.0bs (10.0 kg) | 12.34lbs (5.6 kg) |
| Dimensions WxHxD (cm) | 7.0 / 17.25 / 10.5 | 6.7 / 17.3 / 10.3 | 4.75 / 13.87 / 5.5 |
| Power Rating | 800 W , 60 Hz 1400 RPM | 400 W , 60 Hz 1650 RPM | 310 W , 50 -60 Hz 1350 RPM |
| Safety Listing | UL/CSA/CE/EK | UL/CSA/CE/EK | UL/CSA/CE/EK |
| Designed & Engineered | Florence, Italy | Milano, Italy | Florence, Italy |
| Manufactured & Assembled | Italy | Italy | Italy |
About Eureka Espresso
Eureka's commitment to producing high-quality grinders that embody both modern technology and timeless design has been unwavering since its establishment in 1920. Every Eureka grinder is expertly crafted by hand in Florence, Italy, resulting in a unique combination of artisanal know-how and industrial precision. The company's dedication to producing premium grinders has made it a leader in the industry for over a century.
The brand offers a range of models to suit different needs and preferences, including the "Specialita," "Facile," "Silenzio," "Crono," "Magnifico," and "Atom." Each of these grinders is designed to deliver the perfect grind for espresso, and they all feature flat burrs that are engineered to deliver consistent and precise results. These grinders are ideal for coffee lovers who demand the highest quality and want to experience the best that espresso has to offer.
Resources
Warranty Information

What it Covers: This warranty covers all defects in materials and workmanship (parts and labor) including free ground transportation to and from our repair facility within the US and Canada.

Length:

Grinders: 1 year parts and labor

Contact: hello@coffeebros.com

User Manual: Eureka Atom 75 User Manual

Care and Maintenance

We recommend cleaning the burrs with a small brush weekly (depending on use).