Coffee Bros.
Eureka Mignon Specialita | Espresso Grinder | 55mm Burrs | 1350 RPM
Regular price
$699.00
Sale price
$649.00
Unit price
per
Sale
Sold out
We have 1 in stock
Share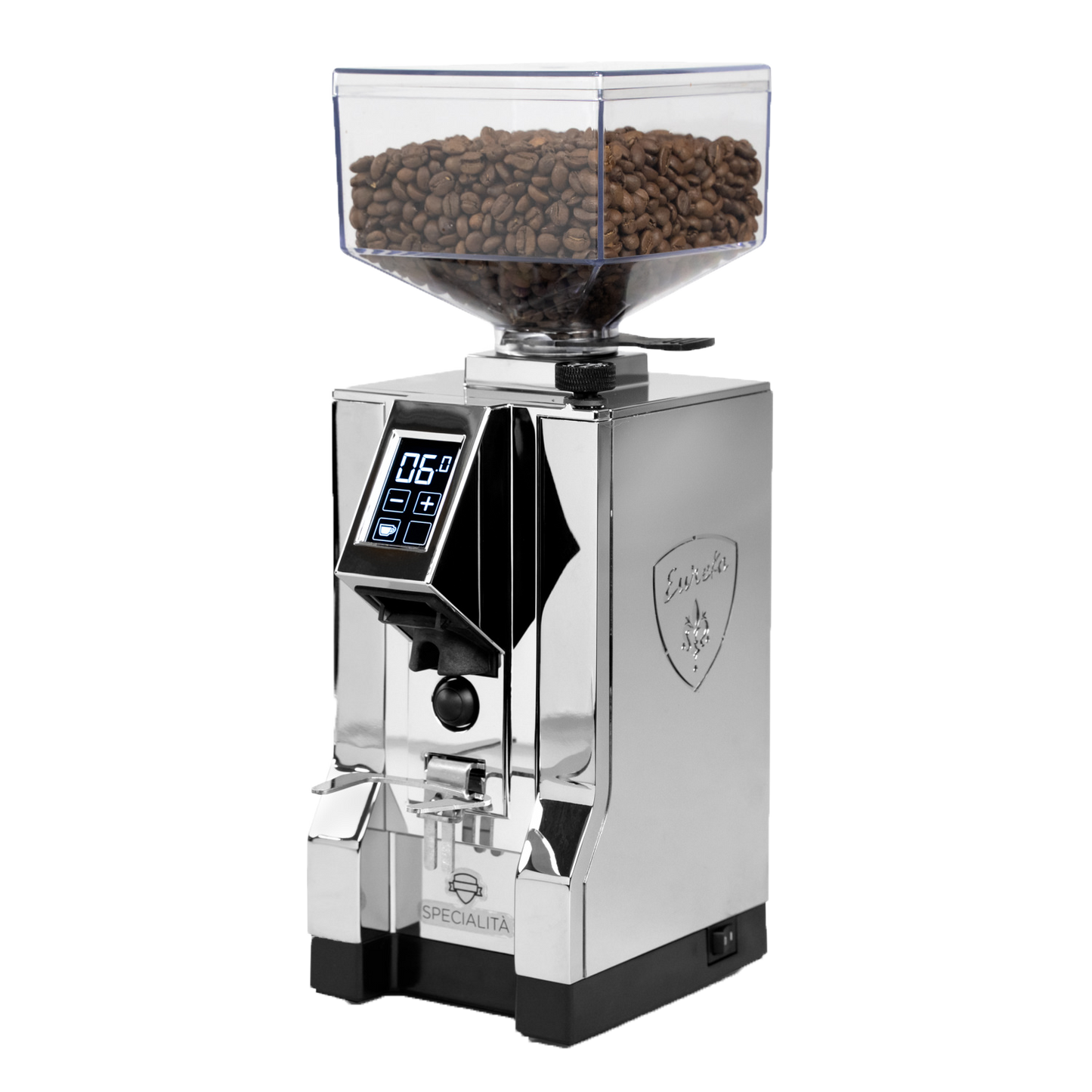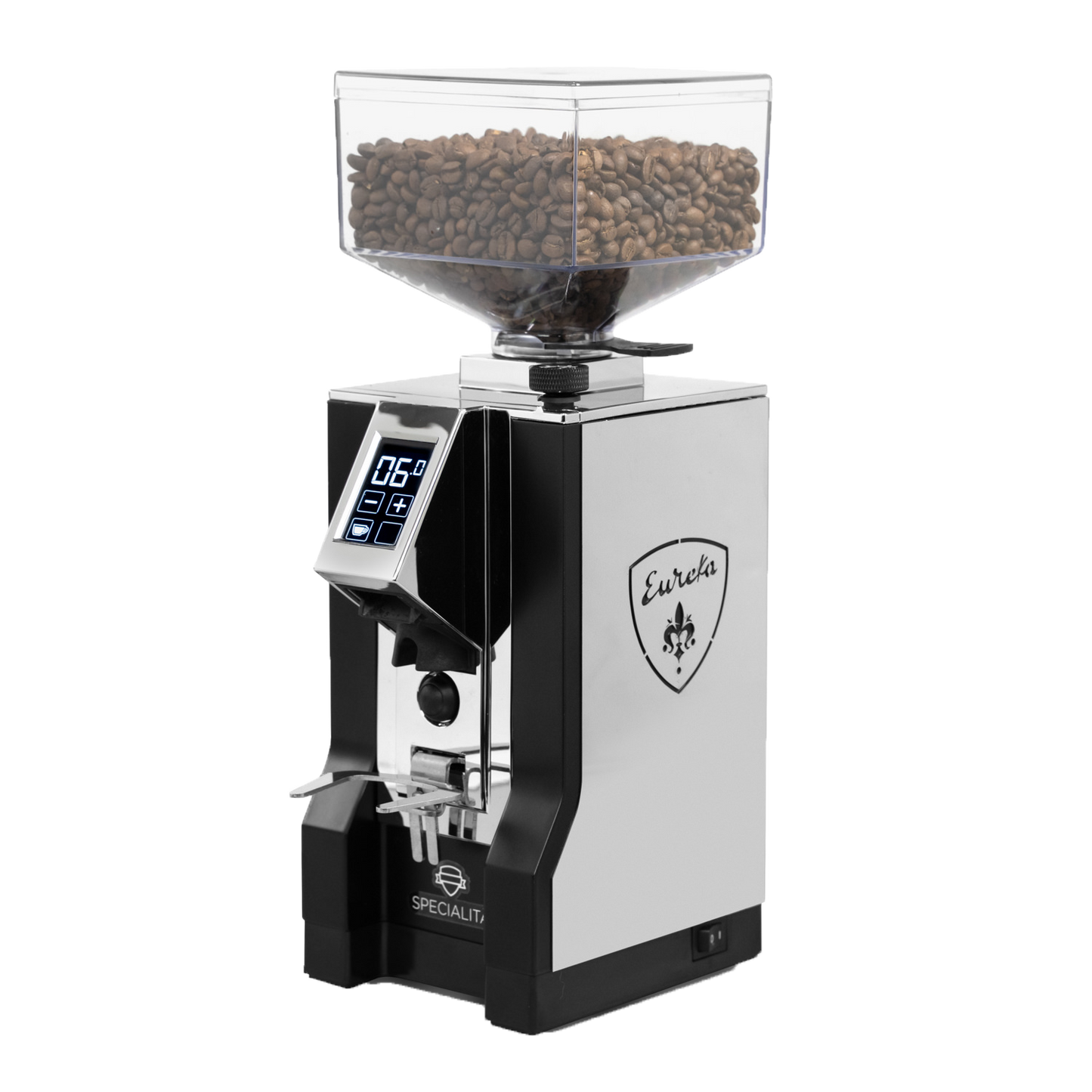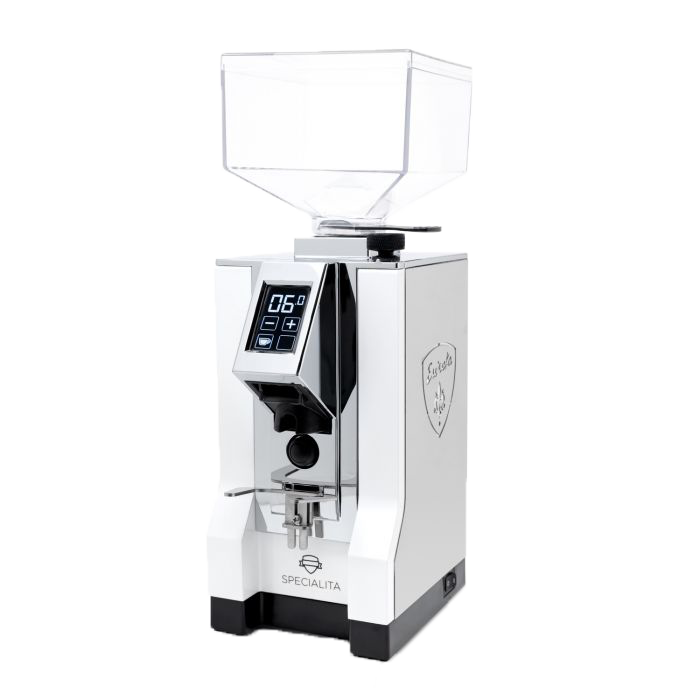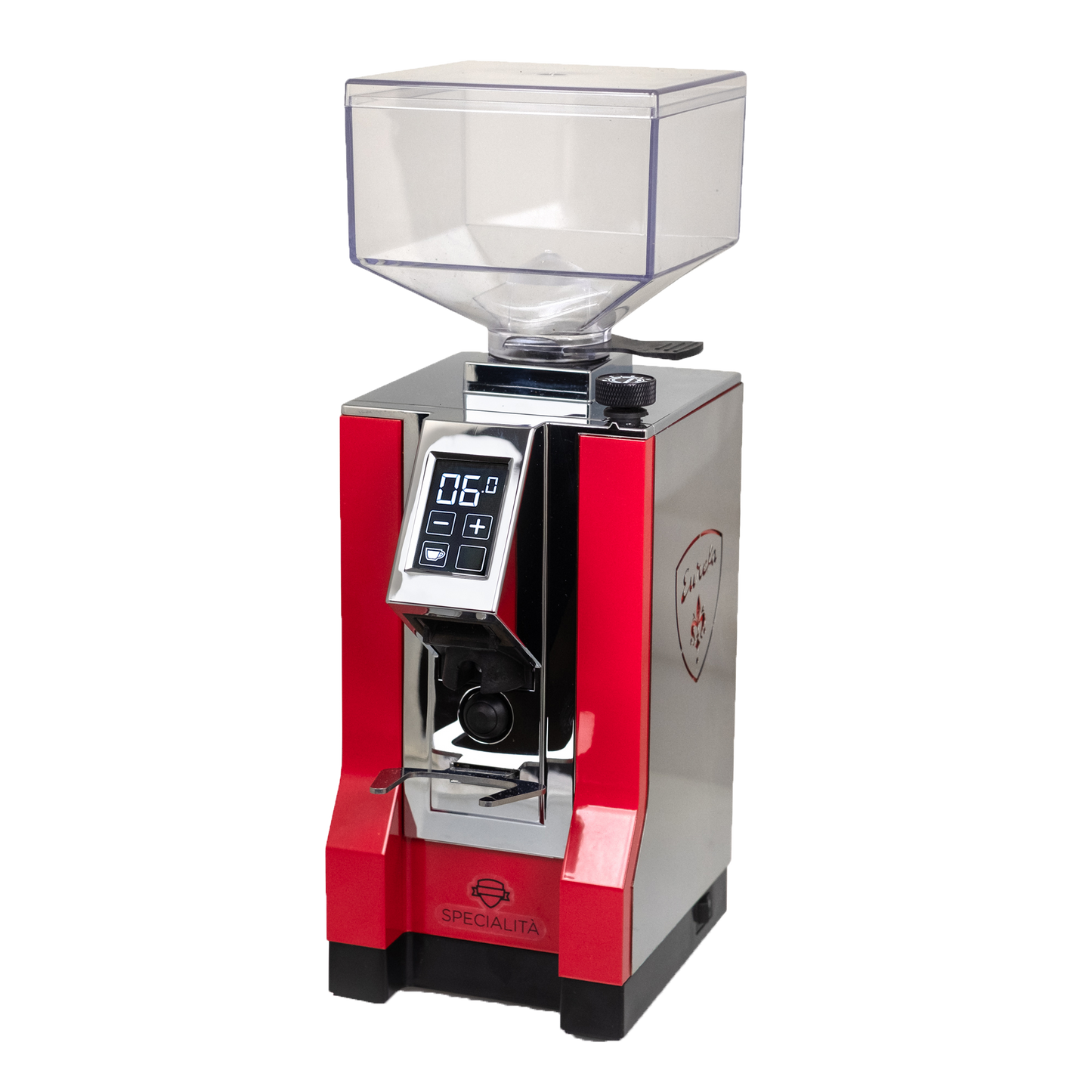 Eureka Mignon Specialita
The Eureka Mignon Specialita is the perfect choice for the home barista who wants to achieve high-quality grinds with ease. This grinder features 55mm flat burrs, a stepless grind system, and a sound-insulating metal case with rubber mounts and gaskets that make the operation almost silent. With its anti-clumping chute, high-speed grinding, and touchscreen controls, the Eureka Mignon Specialita has all the features you need for an effortless espresso experience. The internals are designed for easy cleaning and disassembly, and with its Italian styling, the Eureka Mignon Specialita will be a great addition to any home espresso setup.
Eureka Mignon Specialita Features:
Advanced Burrs

The 55mm stainless steel flat burrset for a high-quality and consistent grind

Stepless Grind Settings

The Eureka Mignon Specialita comes with a Stepless Micrometric Regulation System for an infinite number of grind settings

Digital Control

Adjust your grind time for single or double shot or just the continuous mode all at the touch of a button

Silent Technology

The Eureka Mignon Specialita has a sound-insulated casing made of thick metal with rubber mounts and gaskets that greatly reduces the sound of grinding beans to a quiet whisper.

Low Retention

The Eureka anti-clumping system, along with its wider chute design, creates fluffy grounds by eliminating static in ground coffee, thus ensuring consistent dosing.

Powerful Motor

A powerful 260W motor capable of reaching 1350 RPM burr speed
Why Customers Love The Specialita
Quiet: "As someone who has tried several grinders, I can say that the Eureka Mignon Specialita remains remarkably quiet in comparison."
Low Grind Retention: "I always weigh my coffee both before and after grinding, and I have been pleasantly surprised to find that I have been able to get all the coffee out that I put in, which is great."
Extremely Fine Grind: "I only use this grinder for espresso and it has consistently provided a fine grind for my espresso shots. The adjustments for grind size are simple and efficient, allowing me to easily switch between finer or coarser grinds."
Premium Build Quality: "I find the Eureka Mignon Specialita to be solid and built with high-quality materials in its base, giving it a premium feel."
Stepless Grind Settings: "The Mignon Specialita features stepless grind settings that offer ample room for fine-tuning your shot with great precision, resulting in consistent and high-quality espresso."
Pros

55mm Advanced Burrset: The Eureka Mignon Specialita has 55mm hardened steel flat burrs for improved grind quality and efficient coffee bean grinding, compared to the standard 50mm discs on the Mignon.

Stepless Grind Settings: The Eureka Mignon Specialita has a stepless grinding system that provides limitless adjustments, making it easy to find the ideal grind size for your espresso shot.

Grind Quality for the Price: The Eureka Mignon line delivers exceptional grind quality for espresso at an affordable price compared to its competitors.

Silent Grind: The sound-proof casing of the Eureka Mignon Specialita, made of thick metal with rubber mounts and gaskets, greatly reduces the noise from grinding coffee beans to a mere whisper.

1 (One) Year Warranty: We're proud to offer one year of parts and labor support for every Eureka machine purchase.

Cons

Touchscreen: The screen on the Eureka Mignon Specialita is a soft, flexible resistive touchscreen, requiring light pressure to operate.

Dialing in: The Eureka Mignon Specialita offers limitless grind adjustments, but it can take some time to get used to the adjustments when perfecting your coffee. It's recommended to only use it for espresso as switching between brewing methods often leads to a lot of wasted coffee while trying to find the ideal grind setting.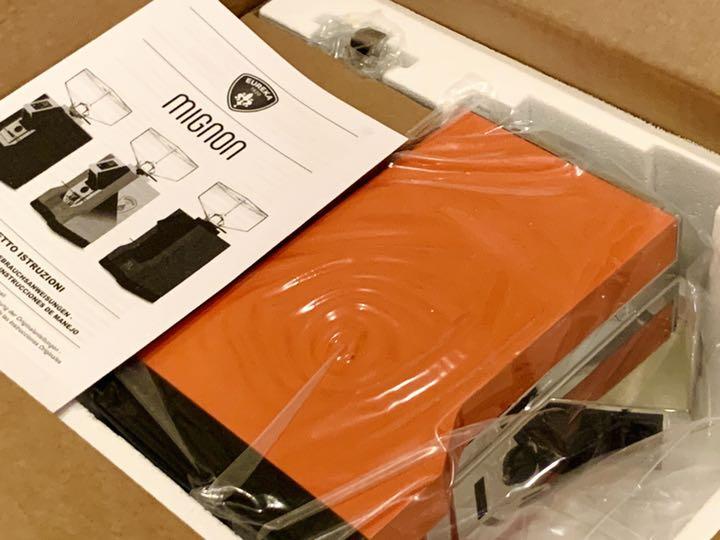 What's Included?
Eureka Mignon Specialita grinder
Removable power cable
Portafilter fork
300g bean hopper
Eureka Mignon Specialita Specs
| | | | |
| --- | --- | --- | --- |
| Model | Eureka Mignon Specialita | Baratza Sette 270wi | Rocket Espresso Faustino |
| Price | $649.00 | $599.95 | $800.00 |
| Best for | Espresso grinding only | Espresso grinding only | Espresso grinding only |
| Weight-based Dosing | No | Yes | No |
| Speed To Grind | Espresso 1.4g/sec | Espresso 3.5g/sec—Manual Brewing 5.5g/sec | Espresso 1.8 g/sec |
| Burrs | 55 mm Diamond Inside Burrs | 40 mm Steel by Etzinger | 50mm Burrs |
| Bean Hopper Capacity | 10 oz (300-400 g) | 10 oz (300-400 g) | 11 oz (320 g) |
| Grounds Bin Capacity | N/A | 5.5 oz (160g) | N/A |
| Weight | 12.34lbs (5.6 kg) | 7lbs (3.2 kg) | 15.2lbs (6.9 kg) |
| Dimensions WxHxD (cm) | 4.75 / 13.87 / 5.5 | 5.11 / 14.96 / 9.8 | 5.25 / 15.0 / 9/0 |
| Power Rating | 310 W , 50 -60 Hz 1350 RPM | 100-120VAC 50/60 Hz, 200W 2.6A | 310 W , 50 -60 Hz 1650 RPM |
| Safety Listing | UL/CSA/CE/EK | UL/CSA/CE/EK | UL/CSA/CE/EK |
| Designed & Engineered | Florence, Italy | Seattle, WA, USA | Milano, Italy |
| Manufactured & Assembled | Italy | Taiwan | Italy |
Eureka Mignon Specialita Questions
Where is the Eureka Mignon Specialita made?

The Eureka Mignon Specialita is made in Italy.
How many coffee beans does the Eureka Mignon Specialita hopper hold?

Roughly 12 ounces of coffee can fit into the hopper of the Specialita.
Can the Specialita grinder be used for both espresso and drip coffee?

The Eureka Mignon Specialita is best used for dialing in the grind for a specific batch of coffee beans and brew type (we recommend espresso), and it's recommended to not make any adjustments until the beans are finished.

It would be diffifult to switch between brew types daily with this grinder as you will lose a lot of coffee trying to dial-in your brew.
What type of power does the Specialita use?
Can I remove the portafilter holder for and grind into the portafilter with dosing ring on top?

The portafilter holder height is adjustable and removable making it easy to grind directly into a portafilter with a dosing ring.
What distinguishes the Specialita, Silenzio, Notte, Atom, and Baratza Sette 270Wi from each other, and what factors should be considered when deciding which one is best suited for making espresso?

In short, the Eureka Mignon grinders (Specialita, Silenzio, Notte, and Atom) offer different features and varying degrees of quietness, with different burr sizes and grind adjustability options, at different price points. The Baratza Sette 270Wi is a different type of grinder that offers grind by weight with a built-in scale, and smaller 40mm cone burrs. Each grinder has its own unique features and trade-offs in terms of function and price, so choosing one over the other will depend on your specific needs and preferences for espresso making.
What size burrs does the Eureka Mignon Specialita have in comparison to the other Eureka models?

Specialita - 55mm burrs
Silenzio - 50mm burrs
Notte - 50mm burrs
Atom - 60mm burrs
Baratza Sette 270Wi - 40mm cone burrs
What can be done to reduce the mess while using the grinder, as there has been an issue with coffee grounds scattering all over the counter despite trying different roasts and beans?

A dosing ring or a light spray of water on the beans before grinding can help reduce static and make for a less messy grind experience.
What is the estimated lifespan in terms of coffee pounds for the Eureka Specialita standard burrs before they need to be replaced?

It is uncommon for a home user to wear out the burrs on a grinder, as it takes many hundreds or even thousands of pounds of coffee to do so, unless the grinder is used for more than a decade or two.
What grind setting are most people using with the Rocket Apartmento machine? Are they also having trouble finding the right setting like I am, who is currently at 2 3/4 from the finest grind setting?

The grind setting varies greatly depending on the coffee, its age, and the humidity level, among other factors. Some people find that they use a setting between 1.75 and 2.5, but this can vary greatly depending on the coffee they are using. It's normal for small changes in the grind setting to occur as the coffee ages. One shot may turn out to be 1.3 ounces in 26 seconds, and the next shot may be 1.6 ounces in the same 26 seconds. Some people use a grind setting just under 2, but the exact setting will depend on their specific setup and preferences.
What are the pros and cons of choosing either a Baratza Sette 270Wi grinder or a Eureka Mignon Specialita Espresso Grinder?

As for choosing between the Baratza Sette 270Wi and the Eureka Mignon Specialita, both are fantastic grinders. The Specialita has a sturdier construction, is more quiet and has flat burrs, but it also has slightly more retention and a limited range of grinds for various brewing methods. On the other hand, the Sette 270Wi is incredibly fast, has conical burrs, and offers excellent value for money. However, it also has a lot of plastic parts, which makes it less durable, but it's backed by great customer service. Additionally, it's quite loud compared to the Specialita.
About Eureka
About Eureka

Eureka's commitment to producing high-quality grinders that embody both modern technology and timeless design has been unwavering since its establishment in 1920. Every Eureka grinder is expertly crafted by hand in Florence, Italy, resulting in a unique combination of artisanal know-how and industrial precision. The company's dedication to producing premium grinders has made it a leader in the industry for over a century.

The brand offers a range of models to suit different needs and preferences, including the "Specialita," "Facile," "Silenzio," "Crono," "Magnifico," and "Atom." Each of these grinders is designed to deliver the perfect grind for espresso, and they all feature flat burrs that are engineered to deliver consistent and precise results. These grinders are ideal for coffee lovers who demand the highest quality and want to experience the best that espresso has to offer.
Where are Eureka grinders manufactured?

Eureka combines modern technology and traditional design in their grinders, with a focus on producing high-quality products. All Eureka grinders are handcrafted in Florence, drawing upon a mix of skilled craftsmanship and industrial knowledge.
Resources
Warranty Information

What it Covers: This warranty covers all defects in materials and workmanship (parts and labor) including free ground transportation to and from our repair facility within the US and Canada.

Length:

Grinders: 1 year parts and labor

Contact: hello@coffeebros.com

User Manual: Eureka Mignon Specialita User Manual

Care and Maintenance

We recommend cleaning the burrs with a small brush weekly (depending on use).