Coffee Bros.
Breville Barista Express Espresso Machine | BES870XL | 54MM | Grinder Included
Regular price
$749.95
Sale price
$699.95
Unit price
per
Sale
Sold out
Share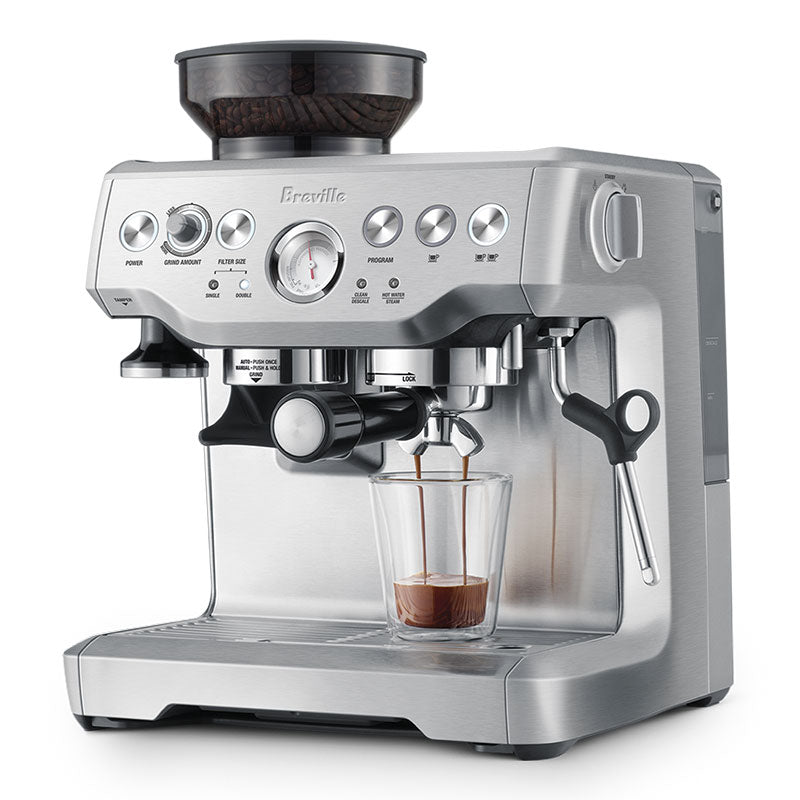 Breville Barista Express
Experience the art of crafting third-wave specialty coffee in the comfort of your home, from the beans to a perfectly pulled espresso, all in under a minute. With the Barista Express (BES870XL), you have the ability to grind your beans just before extraction, unlocking their rich, full flavor potential.
Additionally, the precise temperature control guarantees the ideal conditions for espresso extraction. Get hands-on like a skilled barista with manual microfoam milk texturing, achieving authentic results effortlessly and swiftly.
Barista Express Features:
19 - 22g Dose

Built-in Conical Grinder

Volumetric Controls

30 Second Warmup

PID Temp Control

Low Pressure Infusion
Additional Information
Thermojet™ Technology: Innovative heating system achieves ideal extraction temperature in 3 seconds.
PID Controller: Electronic PID temperature control for increased temperature stability.
Low Pressure Infusion: Applies low water pressure at the start of the extraction to gently expand grinds for an even extraction.
Volumetric Control: Preset 1 & 2 cup volumes, manual over-ride or programmable shot volumes.
Built-in Conical Burr Grinder
The Breville Barista Express comes with a built-in conical burr grinder with 16 precision grind settings. The "Grind Amount" knob allows you to adjust how long the grinder is active impacting the amount of grinds in your portafilter.
54mm stainless steel portafilter
Craft the perfect milk-based espresso drink using the Breville Barista Express double basket, fitting up to 19g of espresso grounds. Most portafilters at 54mm cannot hold more than 14 - 16g of grounds making it difficult to achieve the perfect milk-based drink.
The perfect 9 bar extraction
A luxurious espresso, characterized by its velvety texture and rich caramel hue, is achieved through a sequence that begins with gentle, low-pressure pre-infusions, followed by a high-pressure (9 bar) extraction process driven by our 15-bar Italian pump.
Pros

Lightning Fast Warmup: The innovative heating system achieves ideal extraction temperatures in 30 seconds, this type of warmup speed is unheard of on any other machine.

Coffee Bros. tip: Always pull a "blind shot" prior to brewing your espresso. This allows both your portafilter and group head to hit even an more optimal temperature for better extraction.

Hot Water Spout: The hot water spout is an excellent feature for those who want to quickly make tea or add hot water to their espresso to make Americanos or Long Blacks.

Huge Water Tank: Unlike the Bambino, the water reservoir on the Barista Express is large! Holding 64 ounces of water, the Barista Express water tank needs to be filled less often then other smaller machines.

Stable Temperature: High-performance PID control for optimal temperature stability.

Built-in Conical Burr Grinder: The built-in Conical Burr grinder is what makes this machine worth the price. While most "good" conical burr grinders start at $200, this one is already built into your machine.

Cons

54mm Basket: The 54mm basket size makes it incompatible to many of the espresso puck preparation tools and screens.

Pressurized Baskets: The Bambino Plus includes pressurized baskets by default, which are excellent for newcomers but somewhat restrictive for more experienced home baristas.
Breville Barista Express FAQ
What accessories does the Breville Barista Express come with?

Dosing Funnel™ Attachment
Razor Dose Trimming Tool
54mm Stainless Steel Portafilter
1 cup & 2cup Single & Dual Wall Filter Baskets
Coffee Scoop
Integrated Tamper
Stainless Steel Milk Jug
Cleaning disc and tablets
Cleaning brush, tool and Allen Key
Water Filter Holder and Water Filter
What are the steps to first use the Breville Barista Express?

First Use

Ensure the water filter is securely fitted inside the water tank.
Fill the water tank with cold, preferably filtered water up to the MAX mark. When replacing the water tank, ensure to push down completely to lock into place..

Always check the water level before use and replace water daily. We recommend using cold, filtered water. We do not recommend the use of de-mineralized or distilled water or any other liquid as this may affect the taste of the espresso and how the machine is designed to function.

Ensure the hopper is locked into position. The machine will not turn on if the hopper is not in place.
Plug the power cord into a 110/120V power outlet.
Press the POWER button to switch the machine on. The POWER button light will flash while the machine is heating.
What filter baskets come with the Breville Barista Express?

This machine includes both single and dual wall 1 Cup and 2 Cup filter baskets.

Use the 1 cup filter basket when brewing a single cup and the 2 cup filter baskets when brewing 2 cups or a stronger single cup or mug. Adjust the grind amount and size when switching from 1 cup to a 2 cup filter basket, or vice versa.

The provided filter baskets are designed for:

1 Cup filter basket = 8-11g

2 Cup filter basket = 16-19g
What is the suggested use for the Single Wall Basket vs. Double Wall Basket?

SINGLE WALL FILTER BASKETS

Single Wall filter baskets should be used when grinding fresh whole coffee beans roasted less than 30 days. These allows you to experiment with grind, dose and tamp to create a more balanced espresso.

Coffee Bros. opinion: Stick with the Single Wall filter baskets if you are using a good espresso grinder (conical or flat burrs). At minimum, use the Baratza Encore ESP when grinding for espresso.

DUAL WALL FILTER BASKETS

Dual Wall filter baskets should be used when using pre-ground coffee and older beans that are past the 30 day roast date. These regulate the pressure and helps to optimise the extraction regardless of the grind, dose and tamp pressure or freshness.
How much volume does the one cup button produce?

Press the 1 CUP button once, the button will flash indicating that it has been selected. A preset single espresso volume of approximately 30mls will be extracted. The machine will automatically stop once the pre-set volume has been extracted.
How much volume does the two cup button produce?

Press the 2 CUP button once, the button will flash indicating that is has been selected. A preset single espresso volume of approximately 60mls will be extracted. The machine will automatically stop once the pre-set volume has been extracted.
How to do a manual pre-infusion and shot volume?

Press and hold the 1 CUP or 2 CUP button for the desired pre-infusion time. Release the button to start the extraction. Press the flashing button again to stop the extraction.
Resources
Warranty Information

What it Covers: Breville espresso machines, grinders, blenders

Length:

2 Years (Covers Bambino Plus, Barista Pro, Barista Express Impress, Barista Touch, Barista Touch Impress, Dual Boiler, Dynamic Duo, Oracle, Oracle Touch, and Precision Brewers),
1 Year (Covers Bambino, Barista Express, Grind Control, Milk Cafe, and Smart Grinder Pro)

Warranty Contact: 866-273-8455

User Manual: Breville Barista Express Espresso Machine User Manual

Care and Maintenance

Brush the brew head filter daily.
Perform a weekly backflush.
Soap out the drip tray and water reservoir weekly.
About Breville
Established in Sydney in 1932, Breville has evolved into a renowned global brand that enriches people's lives through meticulous design and brilliant innovation, distributing kitchen products to over 70 countries worldwide. Breville stands out as the kitchen appliance brand that continually advances its products based on consumer insights, unlocking the potential for individuals to achieve remarkable results with greater ease than they ever imagined in their own kitchens.
Breville's extensive range of espresso machines, drip brewers, and grinders is dedicated to simplifying the art of making gourmet coffee at home. Whether you're seeking the perfect entry-level espresso machine or a sophisticated, high-performance brewer, Breville offers something for everyone. With almost 100 years of history, Breville is recognized for crafting espresso machines, drip brewers, and grinders that prioritize user-friendliness while delivering exceptional performance.